A few weeks back, Indian Autos Blog readers were briefed about a low-cost Honda Brio Satya that was being tailor-made for the Indonesian market. Oto.detik now reports that the Brio Satya would be launched this week.
If you're just tuning in now, you may ask "What is the Brio Satya?...Is it a Brio that speaks nothing but the truth??".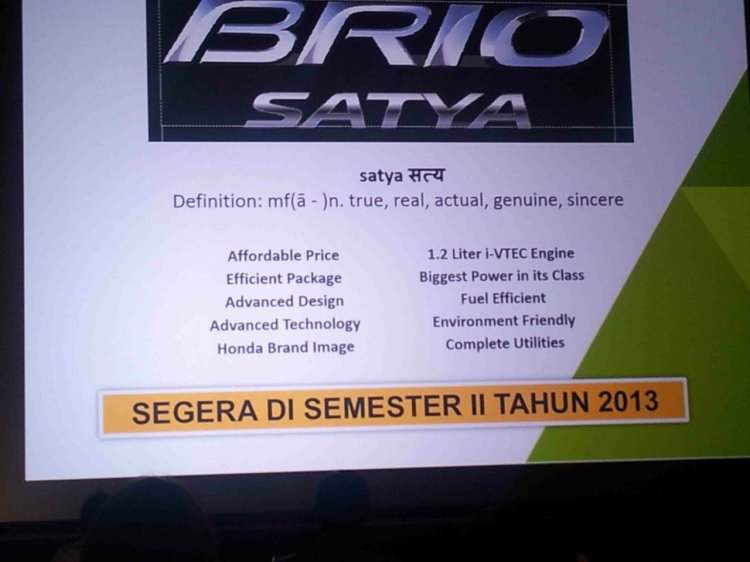 While PT Honda Prospect Motor's (Honda's Indonesian subsidy) marketing director, Mr. Jonfis Fandy may say that "Satya is a word that accompanies loyal customer focus and anywhere he goes, so we called it Satya", the truth is (pun intended) that this Brio has been made to meet the Indonesian LCGC (Low Cost Green Car) guidelines.
The LCGC program provides tax exemptions to small cars that are locally made in Indonesia (with a stipulated proportion of local content) displacing 1.2-liters or less and with their fuel economy not exceeding 20km/l. Since the Indonesian Brio is currently powered by a 1.3-liter engine, the Satya variant will get the 1.2-liter i-VTEC that is seen on the Indian Brio. Whether Honda Cars India would supply the powertrain for the Satya is still unknown though.
While other LCGC competitors such as the Toyota Agya and the Suzuki Wagon R feature a 1.0-liter engine, Honda has zeroed in on the 1.2-liter for performance reasons.