Consistent with our previous reports, the Honda Amaze went on sale in Nepal yesterday. The Amaze, which is exported from India, is sold by Syakar Trading Company, the official distributors for Honda cars in Nepal.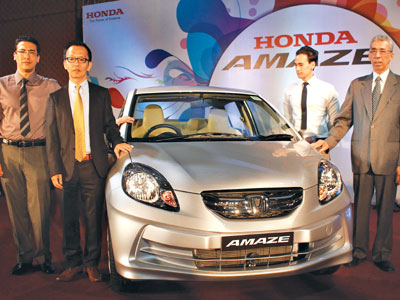 The Amaze was launched by Padma Jyoti, chairman of the Jyoti Group, the parent company of Syakar Trading and Shigeru Yamazaki, director and senior vice-president - sales and marketing at Honda Cars India Limited.
Honda will sell the manual transmission, petrol variants in Nepal, with the automatic variants being introduced later on. Even so, only the E MT, EX MT and S MT models are being introduced in the country. The top-end Amaze with the alloy wheels, ABS and dual front airbags are not being introduced at the moment. The car is being made available in all 6 colors though.
Padma Jyoti, chairman of the Jyoti Group said -
The Honda Amaze is powerful yet fuel efficient, comfortable yet spacious and stylish yet affordable. We are aiming to sell around 320 units of the car in the first year. We have been receiving many queries about the vehicle ever since its launch in the Indian market; and now since the vehicle has been launched here, we are expecting to see a very good sales volume.
The Amaze has been priced at:
Amaze E MT - NPR 2.55 million (INR 15.92 lakhs)
Amaze EX MT - NPR 2.65 million (INR 16.55 lakhs)
Amaze S MT - NPR 2.85 million (INR 17.79 lakhs)
[Source - eKantipur.com]