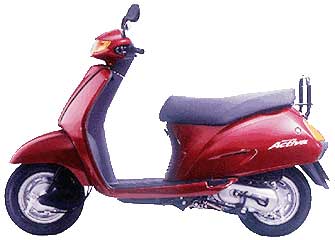 Yes ! And Honda insists that this is not the regular change of stickers or addition of more colour options (as Honda has been doing for the past 7 years). Honda is quite serious this time, and people ready to buy the Activa have a very good reason to wait till March 2009. Honda Activa the master piece and sales phenomenon from Honda Motor Cycle India (HMSI) is set to take a rebirth - How cool is that news?
The Honda Activa has definitely re-written the tale of the Indian scooter arena by conquering the minds of customers who are on the look out for a solid commuter. With its first of a kind, well refined 102cc engine with silky smooth smoothness, it worked well for Honda and its customers - just like Bajaj's scooter trump card the Chetak. Now HMSI is making major changes to its Activa to keep up with the existing competitive market conditions.
Information is scarce, but IAB has learned that
Two different variants are likely to be launched - Activa and Activa Deluxe.
Both variants will be powered by a more powerful new 110CC engine. Existing vario-matic belt driven transmission to remain.
In Deluxe variants 'Combined Braking' will be introduced, by which one can stop the vehicle by applying any one of the brakes.
Existing Activa's 100% metal body will be converted into selective metal parts, so the kerb weight of Activa may come down - resulting in better performance and higher fuel economy.
The  Activa Deluxe will be getting an additional feature, illuminated luggage box. Our sources said both the Activas share same looks and  styles and there is no major changes other than explained above.
This Activa will be launched in first quarter of 2009.
With inputs from Wheelosphere