Continuing its unique product showcases, Hero Motocorp unveiled the Hero iON Hydrogen-fuel cell vehicle concept at the Auto Expo.
Using a new type of Lithium-Air batteries, the iON is powered by electric wheel rim motors which are fed power by these lithium-air batteries and a hydrogen fuel cell range extender. Super capacitors promise smooth energy flow for accelerating and braking the iON.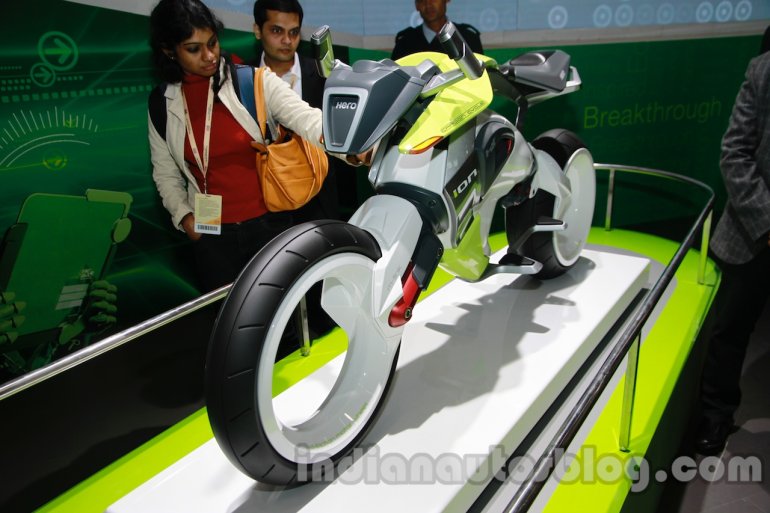 The Li-Air technology promises high energy density since they use oxygen from the air instead of storing in an oxidizer internally. The open wheels contain the rotor component of the hubless electric traction motors which use magnetic levitation technology that work on zero friction. The result is 0-100 km/h in 5 seconds, a top-speed of 160 km/h and a range of 300 km.
Further science fiction stuff can be found in the advanced suspension system, called the m-link. It utilizes magneto-rheological damping which adapts to the road condition in real time using several on-board sensors. These sensors continuously vary the power of the electromagnet that controls the damping characteristics of the suspension system.
The iON does not get a traditional steering. Instead, the bike steers through a rotating front and rear wheel. Multi-axis gyros and accelerometers maintain the stability at all times.
Hero iON Image Gallery
\
Hero iON Press Release
[Can't see the press release here? Head to Slideshare]