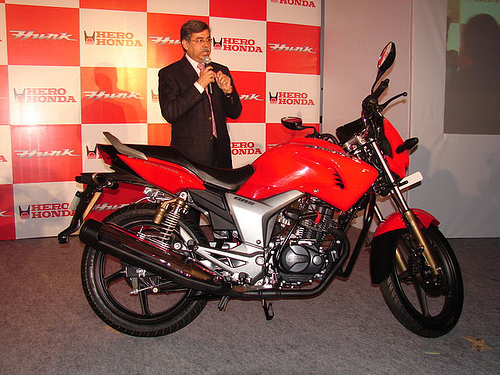 Hero Honda is all geared up to launch no less than 7 two-wheelers this festive season (including a New CBZ variant). The only other bike manufacturer with such ambitions is Yamaha, which has a launch pipeline already working in full throttle!
Instead of an official launch, the new bikes will be showcased at the company's dealers. Hero Honda says that the bike sales are shifting back to economy bikes rather than performance bikes from rival companies; and, with oil prices going though the roof bikes are seen to be an economical alternative to cars. The new models will be in the 100 to 125 cc category. The dealers say, more offers will be made available in order to achieve the set 6 lakh units sales target.
This year happens to be the Hero Honda's Silver Jubilee Year, hence the company aims to sell a record 6-lakh two-wheelers this year (Highest ever sold by the company). By setting this sales target the company, hopes to convey to its competition that Hero Honda will be the market leader year after year despite the rising inflation, higher interest rates and a slowdown in the economy.
Pawan Munjal, Managing Director, Hero Honda Motors, said "The company has increased production and would stock its 3,000 dealerships and sales touch points with maximum inventory and is planning to sell each and every bike dispatched by the company".
IAB Comment- Wow! This is what you call 'volume game.' Incidentally, Yamaha Motor's sales target is a modest 5 lakh units for the whole of 2009 :D We know what Hero Honda mean by 'new models.' A sticker here and a new headlight there, and there you have it- Another new model from Hero Honda. We're hoping that it won't be the same case this time.
Source- Domain B