Wearing a full-face helmet in hot weather isn't something that one would call an "ideal day to ride". An open-face helmet can offer some solace, but it compromises the safety that one would get from a full-face lid. Bangalore-based techie and an avid motorcyclist, Sandeep Dahiya, is here to offer a solution.
Also Read: Hyosung Aquila 650 gets a dark theme and a matching helmet from Eimor Customs
Unlike some of the existing cooling systems that are available in the market that work with water, Dahiya has developed a helmet air-conditioner system that works just like a conventional air-conditioner at your home. Christened as Vatanukul, the air-conditioner for the helmet works on DC power that it draws from the motorcycle's battery. Dahiya invested over four and a half years to create the cooling system.
The Vatanukul can be retro-fitted on any helmet. The system is divided into two units. Majority of the components fit in a backpack to ensure that minimum weight is added to the helmet. The helmet is retro-fitted with cooling pipes and an input space that connects to the hardware in the backpack. The airflow pipes add just 125 grams to the helmet. The backpack, on the other hand, weighs 1,800 grams or 1.8 kg.
The system comes with a controller that works in two settings – Cool and Heating – and features a display that shows the ambient temperature. The cooling mode will come handy during those hot summer days, while the heating feature can be used while riding in cold weather conditions. Some of the products that are available in the market only offer cooling functions.
While the rider can cool down/heat up the air-flow, he cannot set a fixed temperature. The unit will also restrict some movement. But that's a small trade-off that one can live with. The cooling system appears to work efficiently as the gauge shows an instant drop in temperature as soon as the system is turned ON. Dahiya says that the system will bring down the temperature inside the helmet by 10-12 degrees (Celsius). When not in use, the backpack equipment can be fully covered.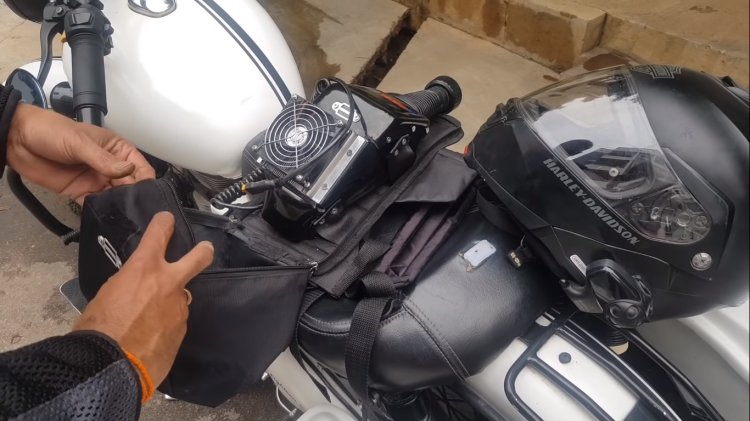 Also Read: Yamaha MT-15 customers to get free MT jacket or helmet
Brands like Feher offer a more compact setup, but they're only available in select international markets. We are sure that Vatanukul will get more improvements over time, and Dahiyath the  offer an even advanced version of the product. You can find more contact details on his Facebook page, ÄeeDEA.
All Images and video belong to Sandeep Dahiya