On the NDTV Car and Bike show's official Facebook page, Siddharth Vinayak Patankar, the architect of the automotive show has written what many will find easy to believe as well astonishing -
CnB's SVP -
Next-gen Maruti Suzuki Swift has notched up over 25,000 bookings already! Pre-launch! Maruti has increased Swift capacity tho so shud not be long waitings still.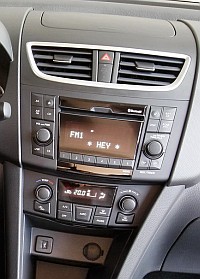 Maruti Suzuki released adverts on leading newspapers pan India a few days back and launched a teaser website (www.marutiswift.com). The official Maruti Swift Facebook page that had fewer than 1,000 inactive members, notched 47,843 fans in under two weeks.
Anything that has the word Swift in India composes history, crosses barriers and instills excitement.
The new Swift will be launched on the 17th of next month with the same pair of engines with new technology, better space and modern design. Maruti Suzuki has delayed the introduction as the predecessor still demanded months of waiting periods.
Make sure to browse our Maruti Swift ZXi spy shots post that reveal its features and interiors.
Will you buy the new Swift this Diwali?
New Maruti Swift Image Gallery
[nggallery id=86]