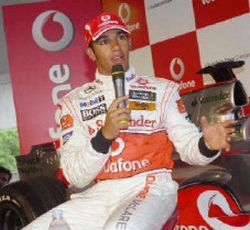 Lewis Hamilton was in Mumbai on the 24th as a part of his sponsorship commitments to Vodafone.His driving had the spectators in a tizzy at the makeshift stands at the Hakone Go-Karting track.The spectators went mad over his one handed drifts. After showing off his sklls in a special Vodafone liveried Go-Kart,he judged a race involving three Vodafone Contest winners.
A very elated spectator yelled 'Lewis, beat Kimi at Monza'. 'Im working on it' he yelled back. A small autograph session followed. A slight rain hampered the full use of the track. We also got to learn the limits of F 1's new wet weather master.
Hamilton slated that the Mercedes C63 saloon he was chauffeured in was not the ideal car to drive on Mumbai's rain soaked roads. Apparently a big 450 bhp saloon on wet, Indian roads are off limits for this F1 megastars. Mere mortals, beware!
Last season Hamilton came unnoticed and was just another desperate attempt to fill the slot vacated by Kimi Raikkonen. The tale of Hamilton bears lot of striking resemblances to Lightning Mc Queen's dream debut in the Piston Cup in Disneys Blockbuster CARS. Hamilton had a dream start to his F1 career finishing 3rd at 2007 season's opener at Australia and even gave his more experienced peers a run for their money in his opening season itself which was nothing but spectacular.
By the end of the season he was touted to be F1's next big thing.He has more reasons to celebrate as he has had a good start to this season,presently leading the Drivers standings.His dominating victory at his home GP in the Uk has left many calling him the next RAIN MASTER.I do know that it is too early to adorn him with such a big honour which was previously held by the legendary Michael Schumacher.
Hamilton's Race Day Routine
Wake up at 8am.Most races are in the afternoon,so no need to peak into the day early.
Breakfast with trainer(no training cuz emphasis is on storing energy).
Drink as much fluids as possible.
Drivers' meeting and appearances with sponsors and drivers' parade.
30mins before race,time to get into race gear and relax.He listens to Bob Marley and watches TV.
Race over 2-3kgs of liquid lost.
2 hours interaction with media
Get back to hotel and freshen up
Celebrations(if the mood is upbeat)
Debriefing session with engineers.He gives as much feedback as possible as the info will be fresh in his mind
Photo Gallery- http://photogallery.indiatimes.com/articleshow/3278157.cms
[ratings]