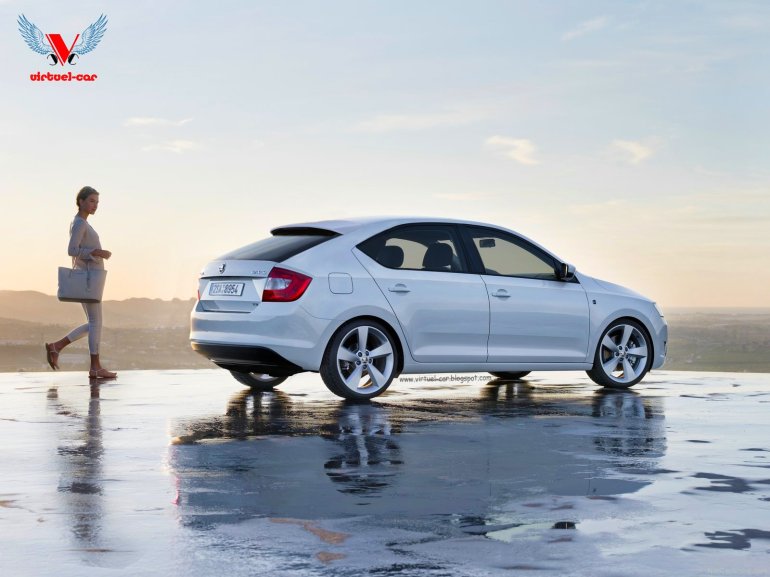 Very recently Skoda's sales and marketing boss Jürgen Stackmann explained to the media that a hatchback spin-off from the European market Rapid sedan is an idea worth exploring.
The new variant will be on view at the Paris Motor Show in late September, either in study or production form.
Stackmann has not provided all the details, but we have a talented digital artist Khalil Bouguerra from Virtuel-Car, projecting his impression of the five-door model, which we mistook for a leaked promotional image!
We have deduced that Skoda is working on two hatchbacks currently - a B-Segment Fabia replacement on the MQB platform and this C-Segment, Golf-Style Rapid five door hatch, sitting on the PQ25 platform that also underpins the Polo and Vento.
The proposal brought forward by Khalil Bouguerra is a cocktail of the VisionD and MissionL concepts. Its a practical creation with a compact footprint and 550 liters of boot space. The econo-hatch will understandably sit below the Volkswagen Golf when viewed as a VW Group creation.
Skoda India may study various options now as the market in India is changing every few years in all segments. In 2012, the segment that has been created out of thin air is the mini SUV segment that has everyone rushing to bring out a product before the others. Perhaps in 2014 or 2015, the market's mood will signal a radical change, hailing the premium hatch as its blue-eyed boy.
The last time we heard from Skoda India, they were preparing a blueprint for new products, and did not show interest in selling cars under the Fabia. Could the Skoda Rapid hatch, perhaps rationalized for India, be a perfect addition to its sub-10 lakh rupee portfolio in the next 3 years?
[Source - Virtuel-car.blogspot.com]