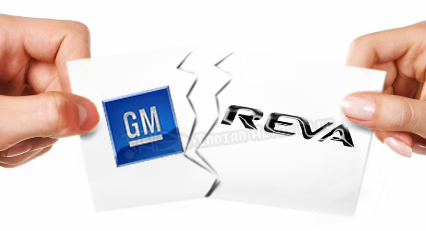 Everyone is aware of the fact that Mahindra has bought 55.2% equity in REVA Electric Car Company (REVA). The announcement was made today in Bangalore.
What not many will know is GM India is planning to break ties with REVA and the Spark EV will be engineered in-house. GM and REVA had entered into an agreement where the latter would supply electric powertrains for the Spark. It was widely believed that REVA would also supply powertrains for the next gen Aveo and Beat.
GM India vice-president P Balendran -
We may not continue the Spark EV programme with Reva in the light of this development and will pursue our own electric vehicle programme. An announcement to this effect will be issued soon.
General Motors isn't willing to continue the partnership despite Mahindra not having any issues with the previously signed agreement.
M&M president for automotive and farm equipment sector Pawan Goenka -
We have no problems with GM continuing. We are quite open to it.
GM had showcased a working concept e-Spark at the Auto Expo in Delhi earlier this year. The company was very optimistic with its plans and said it could sell thousands of these vehicles in India citing that India will see a no-compromise electric vehicle in the e-Spark. GM was supposed to launch the e-Spark by December 2010, but that looks like a long shot after this announcement.
Mahindra REVA Press Release
Mahindra enters high growth electric car segment; acquires majority stake in REVA

· Mahindra to have 55.2% equity in REVA Electric Car Company (REVA).

· Company to be renamed Mahindra REVA Electric Vehicle Company (Mahindra REVA)

· Mahindra REVA to leverage Mahindra's vehicle development expertise

· Mahindra REVA electric technology to be deployed in Mahindra vehicles

· Dr Pawan Goenka elected Chairman of the newly constituted board

Bangalore May 26, 2010: Mahindra & Mahindra Ltd. today strengthened its position in the Electric Vehicles domain with the acquisition of a majority stake in REVA Electric Car Co Ltd. Bangalore. REVA Electric Car Co Ltd. will be renamed Mahindra REVA Electric Vehicle Co Ltd. Under the new agreement which was signed today by both the companies, M&M will own 55.2% equity in Mahindra REVA by a combination of equity purchase from the promoters and a fresh equity infusion of over Rs 45 crores (approx US $10 million) into the company. The buyout makes the Mahindra group a strong global player in the electric vehicle space.

Post the buyout, the Board of Mahindra REVA has been re-constituted under the chairmanship of Dr Pawan Goenka, President Automotive & Farm Equipment Sectors, Mahindra & Mahindra. The new board includes five nominees from Mahindra & Mahindra, two from the Maini family, and one from AEV LLC, California (co-founders of REVA). An independent director will be added to the board subsequently. Mr Chetan Maini will continue to play a leading role in Mahindra REVA as Chief of Technology & Strategy and will continue to be on the board.

Under its core Sustainable Mobility initiative, Mahindra has been working for the last 10 years on developing green technologies and has demonstrated diesel hybrid technology on the Scorpio and hydrogen Alfa three wheelers. Mahindra has a pilot fleet operating with 100% bio-diesel and was the first to launch micro-hybrid technology in India with around 50,000 such micro-hybrids on the road today. In EVs, over and above the electric three-wheeler Bijlee developed in 1999, it is also currently working on an electric version of its mini-truck, Maxximo. Mahindra REVA's EV technology will be adapted for these and other M&M vehicles. Access to strong EV technology will strengthen Mahindra's other current sustainability initiatives.

REVA is currently marketing its products in 24 countries across the world with an overall vehicle population of over 3500, arguably the largest EV fleet globally. REVA recently premiered its next generation electric car models, the NXR and NXG which received an enthusiastic response. Mahindra REVA will now have access to Mahindra's vehicle development technology and distribution network, significantly enhancing its ability to launch a state-of-the-art electric vehicle for global markets.

Speaking on the acquisition, Mr Anand Mahindra, VC&MD, Mahindra & Mahindra said, "With issues such as climate change and carbon footprint taking centre stage globally, eco-friendly transportation becomes the need of the hour. Mahindra already has an established sustainable mobility solutions programme and our association with REVA will only help us further expand our green footprint both in India and overseas".

Dr Pawan Goenka, President (Automotive & Farm Equipment Sectors), Mahindra & Mahindra and the newly elected Chairman of Mahindra REVA said, "This is a key strategic acquisition for Mahindra in its march towards sustainable mobility. Mahindra and REVA bring together complementary strengths. With Mahindra's vehicle engineering expertise, global distribution network, sourcing clout and financing support, REVA's vehicles have the potential to significantly gain in market penetration. Mahindra will also benefit from REVA's EV technology for its own products."

Mr Chetan Maini, Chief of Technology & Strategy, of the newly formed Mahindra REVA mentioned, "The EV market is poised to grow significantly and we concluded that in order to seize the opportunity we needed the resources and experience of a major automotive manufacturer. In Mahindra we have found a company that not only shares our vision of principled and sustainable growth but one that also has a reputation for good corporate governance. As a result of Mahindra's investment, Mahindra REVA will be able to scale, innovate and accelerate and so to deliver better products to more customers in more places".
Source - NDTV Profit