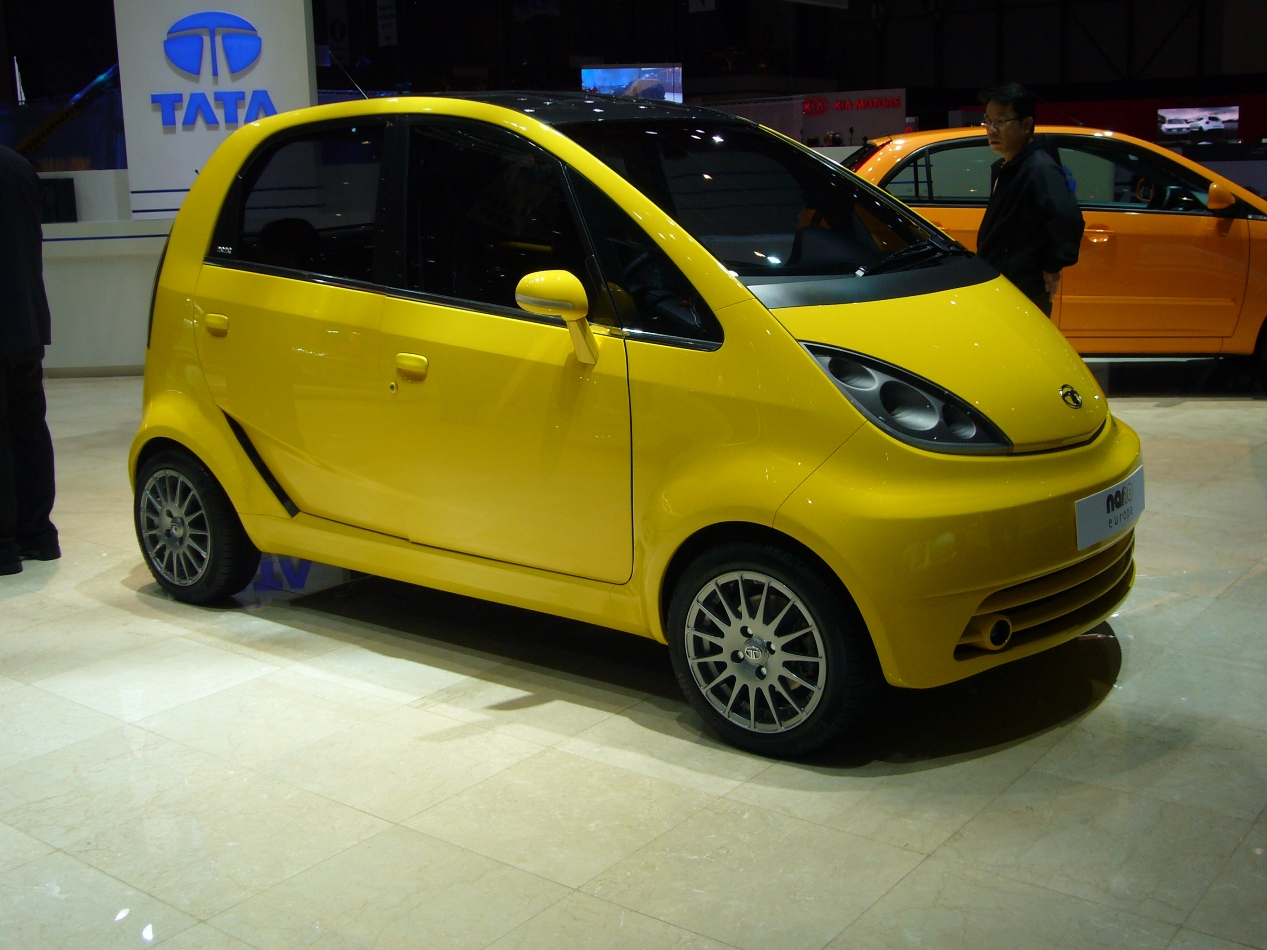 Surprise surprise! We are very impressed with the European version of the Nano dubbed the Tata Nano Europa, and we already knew this car was going to be on display; the electric version of the Indica Vista was also expected, as it will take part in an electric demonstration program in Norway, but the Tata Prima luxury sedan, which will meet a production line in the future, is the rabbit in Tata's hat at this year's Geneva Motor Show.
Tata Nano Europa
Tata Indica Vista EV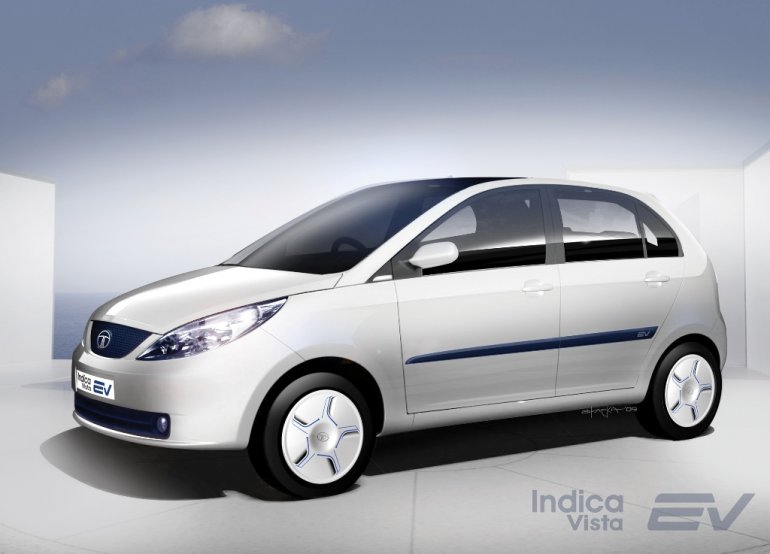 Tata Prima Concept


No images of the Prima are available at present. HIGH RESOLUTION TATA PRIMA IMAGES UPLOADED. CAR'S DESIGN DONE BY PININFARINA, AND THEY HAVE TAKEN THE FREEDOM OF USING THE JAGUAR XF's DESIGN AS INPUTS FOR THIS CAR!

Press Release
Tata Motors today presented at the 79th Geneva Motor Show the Tata Nano Europa, intended for a future launch in select international markets. The company has also displayed the Tata Prima, a concept luxury sedan, and the Tata Indica Vista EV, an electric vehicle based on the award-winning new generation Tata Indica Vista.

Speaking on the occasion at the Geneva Motor Show, Mr. Ratan N. Tata, Chairman of Tata Sons and Tata Motors, said, "In India, the Nano will be launched on March 23, and the cars will be on display at company dealerships from the first week of April. The Nano has also generated wide interest in developed countries, since it's unveiling in Delhi and its presentation here last year. We are delighted to present the Nano Europa for future launch in such markets. The Indica Vista EV represents the work of Tata Motors on alternate technologies, while the Prima is an iteration of a luxury sedan we will introduce. They together signify the ongoing evolution in our cars."

Tata Nano Europa
With a length of 3.29 metres and width of 1.58 metres, the Tata Nano Europa continues to be stylishly petite but surprises with its spacious interior and generous leg space. The slightly longer wheelbase of 2.28 metres combines excellent space and manoeuvrability, further improving on the benchmark standard set by the Tata Nano. The enhanced spaciousness is complemented by redesigned interiors, marked by smooth curves and a high tech yet gentle feel.

To meet the driving needs of its target customers, the Tata Nano Europa will be powered by a 3-cylinder sporty all-aluminium MPFI engine matched with a 5-speed automatic transmission, and electric power steering. The gasoline engine will be class-leading, providing high fuel efficiency and low CO2 emission of less than 100 gm / km meeting the twin goals of being environmentally friendly and stylish – just like the Tata Nano.

The Tata Nano Europa meets all safety regulations. In addition to the all sheet-metal body, its energy absorbing design, use of advanced restraint systems, ABS, ESP and Air Bags will enhance passenger safety.

Just like the Tata Nano, the Tata Nano Europa incorporates exterior compactness with interior comfort and seeks to provide motorists the pleasure and utility of personal mobility combined with affordability and environment-friendliness, in a world where smaller, fuel-efficient cars are emerging as a preferred choice.

Tata Prima
The Tata Prima, the concept luxury sedan designed by Pininfarina, is an iteration of the next generation luxury sedan from Tata Motors. It combines the fundamental design characteristics of the Tata brand, as seen in the Tata Indigo, with sporty curvatures to create a coupe-like silhouette, simple yet refined with an inherent premium.

The Tata Prima's large wheelbase of 2.70 metres endows it with excellent interior space that a luxury sedan demands. The subtle treatment of the C pillar, the hallmark of a Pininfarina design's gracefulness and sporty characteristic, brings forth a coupe-like sloped cabin and tapering back without compromising interior space. The result is that the Tata Prima concept exudes an overall elegance, endowed with style, luxury and comfort and proportions that are classical yet modern.

Tata Indica Vista EV
The Tata Indica Vista EV will be a more practicable option for the consumer: capable of carrying four individuals, adequate luggage space, with a predicted range of up to 200 km and acceleration of 0-60 kmph in under 10 seconds. Tata Motors continues its innovative approach with the Indica Vista EV too, using super polymer lithium ion batteries which have superior energy density to conventional batteries. Tata Motors' electric vehicles will be produced in association with Miljo Grenland/Innovasjon, Norway. Tata Motors' UK subsidiary, Tata Motors European Technical Centre plc, has a 70% stake in Miljo. The first such vehicle to be developed by the company is the Indica EV, which is currently undergoing extensive tests in Europe.

Besides these three new cars, Tata Motors is displaying the new generation Tata Indica Vista itself. Launched in India in August 2008, it has received excellent customer response. It has received two prestigious Indian awards — the UTVi Autocar Best Value for Money Car Award and the Business Standard Motoring Jury Award. Also on display is the Tata Xenon 2.2 litre double-cab, an ideal dual-use vehicle with contemporary styling and superior convenience.

Speaking on the occasion at the Geneva Motor Show, Mr. Ratan N. Tata, Chairman of Tata Sons and Tata Motors, said, "In India, the Nano will be launched on March 23, and the cars will be on display at company dealerships from the first week of April. The Nano has also generated wide interest in developed countries, since it's unveiling in Delhi and its presentation here last year. We are delighted to present the Nano Europa for future launch in such markets. The Indica Vista EV represents the work of Tata Motors on alternate technologies, while the Prima is an iteration of a luxury sedan we will introduce. They together signify the ongoing evolution in our cars."