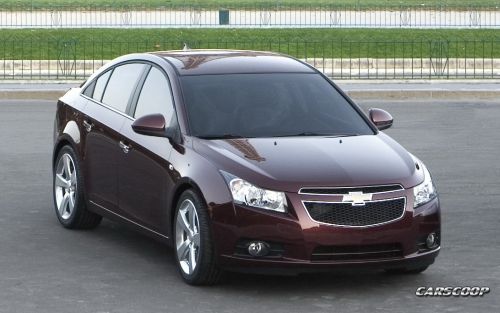 IAB in an earlier post, talked about the delayed release of Chevy Cruze. Here are more reasons for a much longer delay. In addition to the standard four-door sedan model that Chevrolet debuted in Paris, GM is now considering hatchback and wagon versions of its Cruze in order to "accommodate the 'individuality' of markets around the globe and to fill the rest of the range. Because of its global presence, the need for different bodystyles is intensified, as European markets strongly prefer hatchbacks to sedans (Eg.Honda Civic, Ford Fiesta, which are hatchbacks in Europe), and don't have the apparent stigma associated with wagons many Americans seem to hold.
We will have tool sets in many locations," says Hans Demant, Managing Director of Opel of the Cruze strategy. "And as soon as you have a tool set, you have variation which you can create basically at no cost. You have a customer advantage if you make a little modification while you're doing that."
Demant also revealed that the Cruze will have different powertrains from market to market. Of course, highlighting the Cruze platform's flexibility and GM's ability to make tweaks based on individual markets' needs doesn't mean any of these variants will arrive in the Indian market at any point soon.
The Cruze isn't even on sale in U.S yet, despite a Paris Motor Show debut earlier this month that revealed essentially every detail of the upcoming car. Talk of delaying the car's production is ongoing as well, with the global economic slowdown and slumping car sales to blame. GM expects the current market difficulties to begin easing by 2010, however, so that could give the Cruze a timeframe of 2010-2011, depending on how much of a delay is necessary.
IAB Comment: The Cruze will most probably come to India in the year 2011-2012 timeframe. By then the Cruze might have become stale and unimpressive. We feel Cruzes' potential can be harnessed only if released next year. Every small delay, will let the competition forge ahead considering the number of launches expected in that segment. Think about that GM!