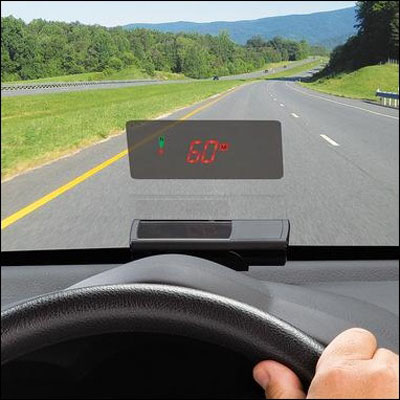 In your budget car, have you ever wished that you could just keep your eyes glued to the road without having the temptation of looking down at the speedo?
Although our roads do not allow us to explore the more extremes on the speed front, we often feel that it would be better if we could just have an icon on the windscreen that would inform us of the speed at which we were traveling without having to take our eyes off the road.
Guess what? The wish has come true.
The HG400 Head-up Display allow you to experience this feature in any car. This gadget uses GPS technology to measure your speed, which is likely to be more reliable than the speedometer in older cars.
Additionally, it can also be set to inform you when you go over a certain speed, keeping you within the safe limits as well as saving you the hassle with the neighborhood traffic enforcing cop.
The device draws its power from the cigarette lighter and is able to interact with other devices using bluetooth technology.
The only drawback on this is the price tag which sets you back a good $125.