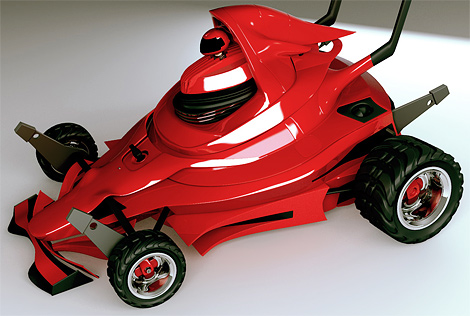 Q: Do you know something that is common to Lawn Mowing and Formula One?
A: Both happen on Weekends!
Here we have a device that can help you exercise your F1 excitement into some serious Lawn Mowing action.
The F1 Lawn Mower concept is the brainchild of Kadeg Boucher of France. Its design (as you can see) is inspired by F1 racing cars. Unfortunately due to the existing credit crunch, Mr.Boucher's wait for a patent and sponsors has taken some time. So, he advices you not to go looking for it in shops.
Specifications
Colors — Ferrari red, white, Lotus black-and-gold
F1-style front wing
Full race suspension
Rear view mirrors
Vintage John Player Special-style livery and steering wheel
LCD gauge display
F1 Lawn Mower Images
Source: Gadget Grid