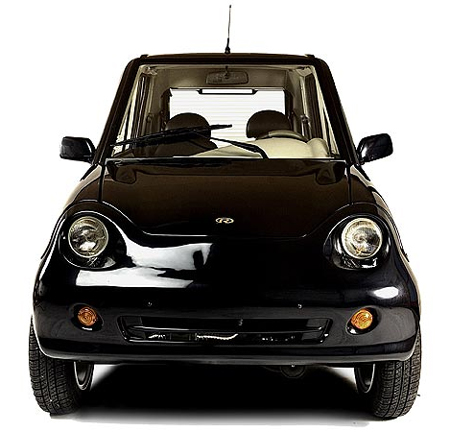 Indian company Maini, the largest maker of electric vehicles, is prepping a brand new Reva/G-Wiz for later in the year. But before that version comes into existence, the present Reva/G-Wiz is getting a change in power supply. L-Ion unit will replace the heavy and inefficient Lead-Acid unit on the car, which is on sale in the U.K by the end of May.
Regulars at Indian Autos Blog will be familiar with this car as we had written on the Reva L-Ion's journey across India to spread awareness and display its capabilities. Just like the marathon car, the L-Ion Reva/G-wiz will have the power of solar cells installed on its roof.
Features of the L-Ion Reva-
maximized range of 75 miles and acceleration
improved charging efficiency with approximately 20% less energy required per charge
reduced charging times both with normal charging – down to six hours
maintenance-free battery operation meaning no watering or equalisation needed
top speed (improved?) to 51 mph
An off-board charging station is a new addition which charges the battery in just 1.5 hours. So by the time your lunch is done with, the car is ready to be driven for 75 miles, which again is better than the Lead-Acid Reva. The L-Ion G-Wiz is priced at £15,795.
In the meantime, Autocar India reports this car is coming to India by the end of May, and will cost close to 6-lakh rupees. Maini is in talks with banks to offer customers flexible finance options. A 6-lakh electric car isn't a very attractive proposition. Nevertheless its eco-friendly nature and tiny size should make a brilliant city car.
Press Release
GoinGreen, the retailer of the UK's best selling electric vehicle, the REVA G-Wiz, announces the specification and price structure of its much-awaited G-Wiz L-ion, the world's first mainstream electric vehicle powered by lithium-ion battery technology. The G-Wiz L-ion is now available to order for delivery in May. With an extended range of up to 75 miles, the G-Wiz L-ion is suitable for 97% of all car journeys without the need to recharge. GoinGreen is also introducing an off-board fast charge station capable of a 90% G-Wiz L-ion charge in one hour and a complete charge in 1.5 hours.

Based on the current G-Wiz i platform, the G-Wiz L-ion incorporates new technologies for safety and performance, key points include; increased range and acceleration, improved charging efficiency with approximately 20% less energy required per charge, reduced charging times both with normal charging – down to six hours - and off-board fast charging, maintenance-free battery operation with no watering or equalisation required and better all-round weather performance. The G-Wiz L-ion also comes with a full three-year battery warranty ensuring trouble-free servicing for L-ion owners and further establishing G-Wiz as the cheapest city motoring available. The top speed has been capped at 51 mph, sufficient for the G-Wiz's urban usage.

Steve Hartridge, managing director of GoinGreen says, 'With the ongoing technology race to bring lithium-ion powered vehicles to market, GoinGreen is proud to be the first in the UK to offer a mainstream affordable vehicle. The extended range and enhanced battery life really does make the G-Wiz L-ion the ideal vehicle for city commuting. The new battery technology also means that the G-Wiz L-ion is 15% lighter than previous G-Wiz versions, improving its acceleration and manoeuvrability. It is cheap to run, very nippy, great fun to drive and best of all, is zero-emissions'.

The new G-Wiz L-ion is available to order now and the price begins at £15,795. Deliveries will commence in May 2009 and the lead-time for orders will be around 14 weeks. For existing owners of a G-Wiz ac drive or G-Wiz i, there is the possibility of upgrading their vehicles to the new lithium-ion technology. Initially this upgrade will only be available to a limited number to vehicles and price is to be confirmed.

GoinGreen is the creator of the UK carbon-neutral automotive market and according to Newsweek (25/2/08), is 'the largest zero-emissions auto distributor on the planet today'. There are now nearly 1,000 G-Wiz on the roads and there is a strong used approved market. Since GoinGreen introduced the G-Wiz to London in 2004, more than 1,300 people have experienced G-Wiz driving.

The 2 + 2-seater G-Wiz is exempt from the London Congestion Charge and road tax (VED), is in insurance Group 1 (the lowest), costs about 1.5p a mile to run and benefits from free parking and recharging in the City of Westminster (which now has over 60 recharging points) with many other boroughs now also installing recharging points and offering incentives for EV owners. There is an increasing number of recharging points in commercial locations too, such as Westfield London, which has 30. The G-Wiz is sold via GoinGreen's website where customers can book a test drive online. The company has a team of engineers based at its Southall headquarters for full after-sales maintenance and for time-poor customers it also offers mobile servicing at the customer's home or office. www.goingreen.co.uk

Notes to editors:

1. The G-Wiz L-ion is manufactured by REVA in Bangalore and is marketed as G-Wiz in the UK only and as REVA elsewhere.
2. Research conducted by Professor Julia King for 2008's King Review of low carbon cars concludes that 93% of car journeys are less than 25 miles and 97% are less than 50 miles. Professor Julia King CBE is Vice-Chancellor of Aston University and in March 2007 she was appointed by the UK Government to lead the King Review into vehicle and fuel technologies that could help to reduce carbon emissions from road transport over the next 25 years.
3. The three-tier thermal management system, the intelligent Energy Management System (iEMS) optimises charging and energy output of batteries to maximise vehicle performance, displays key information to the driver and maintains an electronic log for servicing and maintenance personnel. The computer controlled smart charger and motor controller also monitor the battery pack and take actions to maintain it within safe operating limits independently of the iEMS, whilst the battery power pack itself is built with an 'electronics independent' safety system.
4. The new off-board fast charge station, which gives a 90% charge in one hour, uses three-phase power. It is primarily aimed at organisations that require constant vehicle availability during the day. The G-Wiz L-ion's normal full charging time is six hours using conventional recharging units/sockets (a two hour reduction on the previous lead acid battery vehicles eight hours) with an 80% charge taking 3.5 hours.
5. GoinGreen introduced its own dedicated insurance policy for the G-Wiz in November 2008. The GoinGreen Insurance Services policy was developed with insurance brokers Heath Lambert and underwritten by Chaucer Insurance.
6. The G-Wiz is zero emissions if charged using energy from a renewable source and produces 63gms per km if recharged using electricity from a conventional source. The figure of 1.5p per mile is average and varies depending on energy company used and tariff.