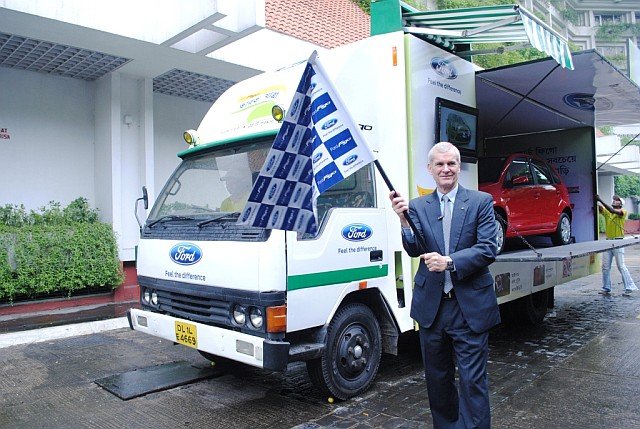 After the success of the Smart Drive program, Ford is doing more to bring the Figo in contact with prospective customers by taking the Figo to where they live. They are organizing the 'Bharat Yatra' pan-India drive covering 1,000 cities to give prospective buyers a first hand look at the car.
Figo sales aren't at year 1 levels anymore as cars like the new Swift, Etios Liva and Honda Brio are corrupting minds of the Figo buyer. He would like to wait to see these models before making up his mind.
To celebrate the sale of 100,000 Figo cars, Ford has started a pan-India 'Bharat Yatra'. The Bharat Yatra is a road show which will travel to 1,000 cities across India gives people a firsthand look at the popular hatch. The initiative from Ford will last for 100 days.
The Yatra will cover 1,000 cites in 100 days. It kicks off Kolkata on June 29 and covers West Bengal, Assam, Orissa, Chattisgarh, Bihar, Jharkhand and Maharashtra. Next week two more convoys will start in Pune and Bangalore. All three three convoys will visit 18 Indian states over the next 100 days. Not only will they cover Tier 1 and Tier 2 locations but Tier 3 areas as well.
Customers will be invited with their families to experience the Figo and click pictures with it. Ford's exporting Figo to five countries and will add another forty eight this year. The Yatra attempts to revive sales as the B segment is flocked with many new models.