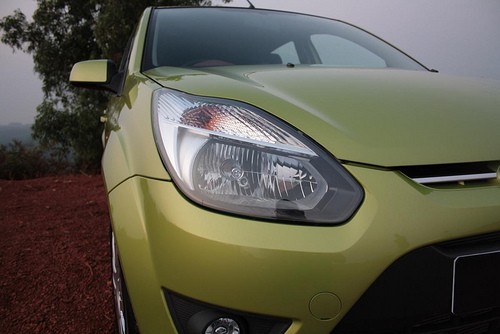 Ford Figo - Let the game begin
UPDATE - PRESS RELEASE ADDED AFTER THE BREAK
Ford India today announced the prices for Ford Figo variants. The base version for the Petrol is available at Rs. 3.49 lakhs while the Diesel starts at Rs. 4.47 lakhs. Figo, the first small car offering from Ford India, is specifically designed for the Indian market and is expected to be a game changer for the company. The variants and prices (ex-showroom Delhi) below -
Duratec Petrol 1.2 Litre
LXI - Rs. 3,49,900
EXI  - Rs. 3,81,900
ZXI - Rs. 3,99,900
Titanium - Rs. 4,42,900
Duratorq Diesel 1.4 Litre
LXI - Rs. 4,47,900
EXI - Rs. 4,72,900
ZXI - Rs. 4,96,900
Titanium - Rs. 5,29,900
NEW FIGO COMBINES STYLING, EXCEPTIONAL VALUE, FUEL EFFICIENCY AND FORD's COMMITMENT TO the INDIAN MARKET
· New Ford Figo pricing announced – entry level models to start at Rs. 3,49, 900 (1.2 L LXI) for the petrol and Rs. 4,47, 900 (1.4 L LXI) for the diesel variant
· Figo's exterior and interior styling follows global kinetic design elements, abundance of features bring new set of standards in Sub-B market
· The interior of the Figo features five-passenger seating and more interior features for customers wanting something new and refreshing in a Sub-B compact
· Two fuel-efficient engines, including a new 1.2-litre petrol and 1.4-litre diesel, will be offered in the Indian market
· Ford sales and service locations have increased throughout India to meet Figo demand
NEW DELHI, India, March 9, 2010 – Ford India officially launched the Figo today announcing pricing for the much anticipated new compact car.
"Our dealers are excited, customers are waiting and the new Figo is now ready to hit the streets," said Joe Hinrichs, president of Ford Asia, Pacific and Africa. "From the start we wanted to offer all the features of a B-Segment car at a Sub-B price. We've accomplished that with Figo."
Four different Figo models – LXI, EXI, ZXI and Titanium – will be available with different trim levels and designed to suit a variety of consumer tastes. All models also will be available with a Duratorq diesel engine option.
Aggressively priced, the new entry-level Figo Duratec LXI, equipped with a 1.2-litre petrol engine, will be priced at Rs. 3,49,900. The entry-level model also can be equipped with a 1.4-litre Duratorq diesel engine that will be priced at Rs. 4,47,900 .
Pricing for the EXI model will start at Rs. 3,81,900 for petrol and Rs. 4,72,900 for diesel variants. The ZXI models are priced at Rs. 3,99,900 for petrol and 4,96,900 for diesel and the top-of-the-line Titanium at Rs. 4,42,900 for petrol and Rs. 5, 29,900* for diesel model. The standard engine for all models is the 1.2-litre Duratec petrol engine. Duratorq 1.4-litre diesel engines are available on all models.
"We have kept our promise and priced all four Ford Figo models very competitively to emphasise Ford's commitment to this huge segment of the growing Indian automobile market," said Michael Boneham, president and managing director of Ford India. "We are committed to setting new benchmarks with Figo in this segment. Figo offers more features, interior space, technology and durability than other vehicles at this price in the segment."
Beginning with an excellent foundation that includes a proven structure and chassis, both interior and exterior styling follows the global kinetic design elements that help harmonise the car with other models in the global Ford lineup.
Modern, sleek styling turns heads
On the exterior, the tri-plane front end, distinct fenders and a "comet tail" side treatment that starts at the front fenders and carries through the doors into the quarter panels combine to give the car a sporty and aggressive appearance and develop its unique personality. The car's large headlamps have a dynamic shape that helps define the element of speed and agility for the Figo.
The personality that Figo expresses on the outside carries over into the interior of the vehicle.
Inside, a free-flowing instrument panel greets the driver. Seating comfort is enhanced with a design specific for Figo that is all-new and includes fabric seat inserts with a specific bolster and trim pattern.
All models feature a black-themed interior highlighted with red or blue accents. Door panels on the up-level models include cloth inserts with distinctive blue striping matching the seat pattern. On ZXI and Titanium models, consumers also will be able to choose a coral red coloured instrument panel option. The bold colour themes are inspired by India's colourful traditions and taste. Both the ZXI and Titanium models are extensively equipped and include specific door panel inserts and a standard driver-side airbag.
Other features included on the ZXI and Titanium models include dual-cluster instrument gauges for speedometer and tachometer, vanity mirror for the front seat passenger, power-activated rearview mirrors for both passenger and driver and a full length console. The interior of both models also includes extensive use of bright or polished aluminum trim on the door handles, console and around the gauges.
Generous front seat travel, at 210 millimetres, comfortably accommodates nearly every driver.
The rear seat is designed for three adults and can easily fold down to offer generous storage. Combined with the 284 litres of storage capacity in the trunk, Figo has more available storage than any other vehicle in its class.
Among the many standard interior features is a heater and air-conditioning system designed to provide best-in-class performance for a range of temperatures from -10 to 49 degrees Celsius.
Other smart features include Lane Change Indication that, when momentarily depressed, flashes indicators three times, eliminating the need to hold the stalk. Hazard deceleration alerts trailing drivers when vehicle speed rapidly decreases. The hazard lamps automatically flash when vehicle speed suddenly decreases to below 96 kilometres per hour.
Figo offers two fuel-efficient engines for the Indian market.
A new 1.2-litre petrol engine delivers 52.44 kW (71.35 PS) @ 6250 rpm and 102 Nm (10.4 kg) @ 4000 rpm. Ideally geared for Indian traffic, fuel efficiency for the 1.2-litre is 15.6 kilometres per litre. The proven, class-leading 1.4-litre Duratorq diesel engine also will be available for Figo with outstanding fuel efficiency of 20 kilometres per litre. Horsepower is rated at 50.72 kW (69 PS) @ 4000 rpm. Torque is equally impressive with 160Nm (16.3 kg) at 2000 rpm.
A five-speed manual transmission is standard equipment on both engines. The clutch has been designed for low effort due to frequent application for shifting in high traffic found in the Indian market.
Zero to 100 kilometres per hour performance is 15.5 seconds for the petrol engine and 15.8 seconds for the diesel variant.
Based on Ford's proven global small car architecture, Figo has been thoroughly tuned for Indian drivers. With the longest wheelbase in the B-car segment at 2489 millimetres, chassis dynamics have been optimised with new steering and suspension components.
The standard power-assist steering system is tuned to require less effort for parking and tight traffic maneuvers and offers precision and agility at higher highway speeds. An anti-lock braking system is offered on the EXI, ZXI and Titanium models.
Service for the new Figo also has been enhanced. Ford India recently announced the opening of 28 dealerships in India, bringing the total number of Ford outlets to 164 facilities in 97 cities. Nearly 50 facilities feature Quick Service, a new servicing process that is designed to quickly perform routine maintenance in less than 90 minutes.
As part of the initial pricing, all Figo models will be covered with Roadside Assistance for two years. Additional extended warranty plans and total maintenance options will be available to the consumer. Combined with service intervals that are among the longest, and high-durability parts that are competitively priced, Figo is among the leaders with a standard scheduled service plan of five years or 100,000 kilometres.
"Given where the Sub-B segment has traditionally been in terms of content, space and price, we feel Figo will open new opportunities for consumers looking for a better choice," Boneham said. "When you look at all the features, generous interior proportions, styling and fuel efficiency, all Figo models are extensively equipped and truly a bargain at these price points."