Ford has just announced that the 2 Millionth EcoBoost engine has been built since production began in 2009. The milestone engine was a 2.0-liter unit and went into a Ford Escape that rolled off the company's plant in Louisville, Kentucky, USA.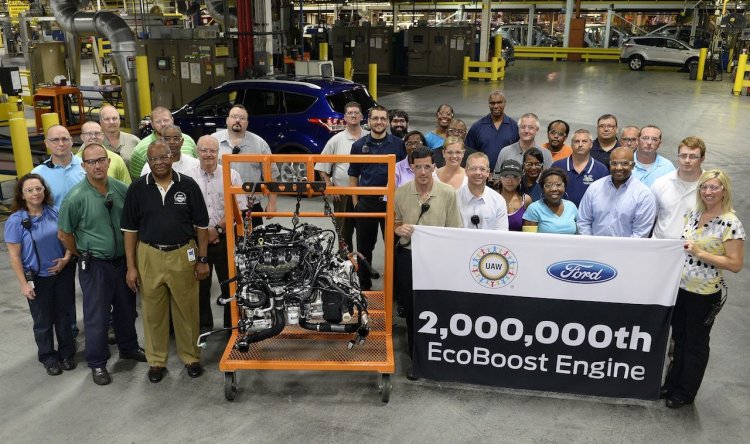 Ford currently builds on an average, 100,000 EcoBoost engines every month. The company expects the EcoBoost production to exceed their diesel-engine production for the first time ever. Indians were introduced to the award winning 1.0-liter EcoBoost engine this June, when the EcoSport was launched.
Currently however, Ford India dealers have stopped accepting bookings for the EcoSport 1L (and the 1.5-liter petrol) due to the large backlog of orders. The press release informs us that production of the 1.0-liter EcoBoost engine in Cologne, Germany (the Indian-made EcoBoost powered EcoSport gets its engine imported from Cologne) has been doubled to more than 1,000 engines per day. The 1L EcoBoost will also commence production at Ford's new facility in Changan, China. The EcoBoost range currently starts at 1L and extends to 1.5L, 1.6L, 2L and a range-topping 3.5L V6. By the end of 2013, 80% of the company's global products would be available with the EcoBoost technology.
Joe Bakaj, vice president, Powertrain Engineering, Ford said -
Ford EcoBoost delivers great performance with lower fuel bills, a recipe which is proving incredibly popular with consumers around the world. EcoBoost engines are attracting new customers to the Ford brand every day, and our plants are working hard to keep up with demand.
Ford Builds 2 Millionth EcoBoost Engine - Press Release
[Head to Scribd if you're unable to view the document above.]