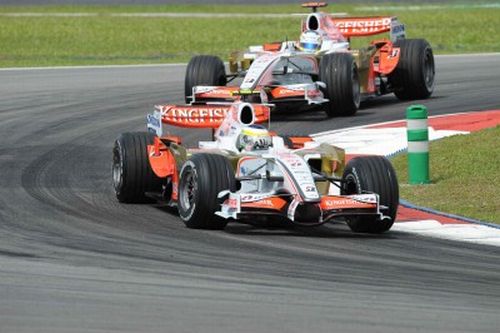 Force India's Mercedes-powered 2009 car will be revealed and run for the first time at Jerez in early March, team owner and boss Vijay Mallya said.
"The new car, VJM02, is under construction. It will have a McLaren gearbox and Mercedes engine, which is a big change from VJM01. We are going to unveil it at Jerez in early March," the Indian billionaire explained in New Delhi.
2009 F1 Calender to starts on March 29
The 2009 Formula One calender is set to start in Australia on March 29. Mallya denied the fact that he was worried of his team's new car arriving later than many of its rivals.
"Not really," he told the Hindustan Times. "We will have a six day test which I think is enough. Besides, the facilities at our Silverstone factory are quite up to the mark and I think we will be ready for the first race."
Mallya said he is "confident" Force India, having failed to score a single point in 2008, can progress into the midfield this year. Last month the team confirmed that 2008 drivers Giancarlo Fisichella and Adrian Sutil will stay on for this year alongside tester Vitantonio Liuzzi.
Source: ForceIndiaF1.com