Capable of sprinting from 0-100 km/h in 9.9 seconds.
Along with the leaked specifications of the Fiat Punto Abarth, Fiat Moto Club has also posted a couple of slides on an hotter version of the Fiat Avventura pseudo-crossover.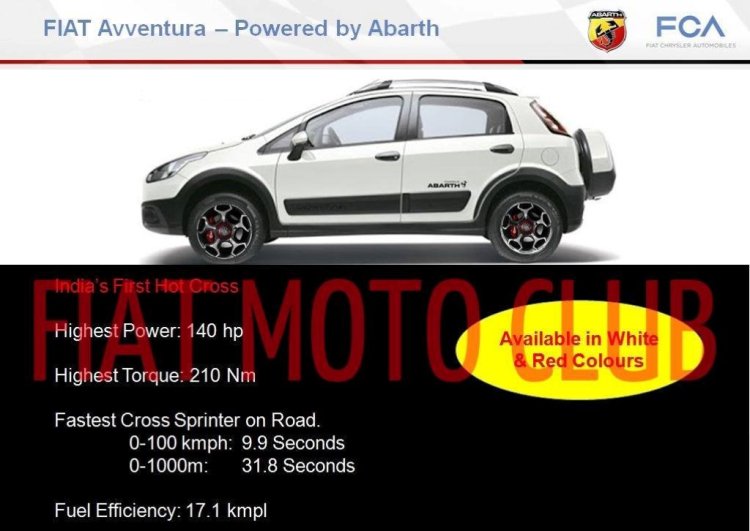 Called the "Fiat Avventura Powered by Abarth", it will feature the same internals as in the Punto Abarth. Power is sourced from the same 1.4-liter T-Jet turbo engine with 140 hp and 210 Nm of torque. Paired to a 6-speed manual gearbox, the Fiat Avventura Abarth is capable of sprinting from 0-100 km/h in 9.9 seconds, and can do the standing kilometer in 31.8 seconds. As for fuel mileage, it returns 17.1 km/L.
The exterior will look identical to the regular Avventura, save for the dark 16 inch 5-spoke Scorpion alloy rims, red brake calipers, and a "Powered by Abarth" badges. The only exterior colors available are red and white.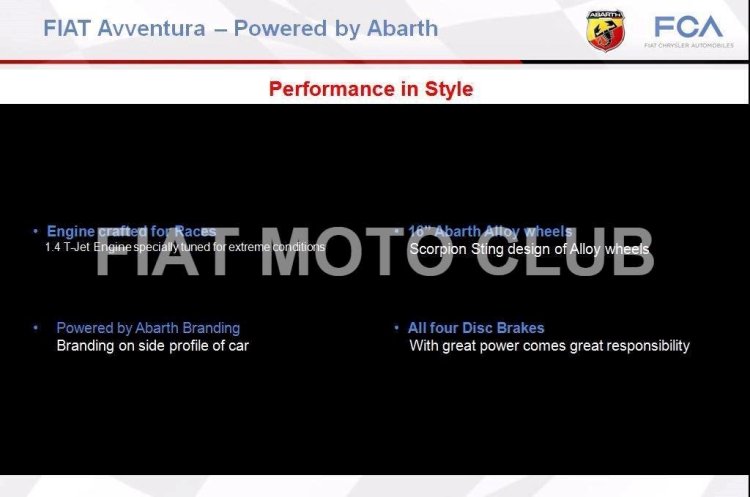 The Fiat Avventura is a rugged, crossover derivative of the Fiat Punto Evo, which measures 3,989 mm in length, 1,706 mm in width, 1,542 mm in height and 2,510 mm in wheelbase. The regular variants have a ground clearance of 205 mm.
[Source: Fiat Moto Club]