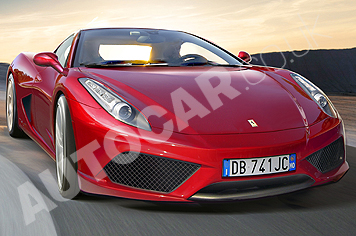 The new Ferrari F450 may have to wait till the LA Motor show later this year for its wraps to be taken off due to some last minute tweaks ordered Ferrari boss Luca di Montezemolo. With this announcement, no Ferrari dealership will display the vehicle till the initial months of 2010.
The technical upgradation from the outgoing F430 are large and well defined. Ferrari is also expected to introduce a large number of engineering ideas and  technologies from its Formula stable on the F450.
From what we hear, the F450 is likely to sport radiators ahead of the front wheels, a double-clutch seven-speed transaxle gearbox, understeer-canceling software and an upgraded version of the Scuderia's traction control among others.
Although the Ferrari F450 will employ cutting-edge tech, it won't initially adopt any of the new patents that Ferrari recently applied for, including twin-turbo, direct-injection V8 petrol engines and all-wheel-drive hybrid technologies.
The structure for the new model is likely to be in aluminum, thus cutting out on the weight and negating the need for more power. The handling and emissions are sure to improve over the out going model.
On questions of going hybrid, the manufacturer is confident that its' buyers won't be interested in going hybrid for the time being and it has the capability to meet European emission standards till 2014, without the need to go hybrid.
Source - Autocar UK