The Ferrari 458 Speciale would be gracing the Italian carmaker's stand at the Frankfurt Motor Show next month. It's not just a 458 with a fancy stripe mind you, this Ferrari is the most aerodynamic roadcar in its history and breaks a few other records.
[Head to YouTube if you're unable to watch the video above.]
While the power still comes from the 4.5-liter V8 engine, there are now 597 horses compared to the standard 458's 562. As a result, 0-100km/h takes only 3.0 seconds, which is 0.4 seconds faster than the Italia. Ferrari claims that 0-200km/h takes 9.1 seconds and out on their Fiorano track, the Speciale needs only 1:23.5 to complete a lap. Also notable is the engine's specific power output of 133bhp/litre, the highest for any naturally aspirated engine.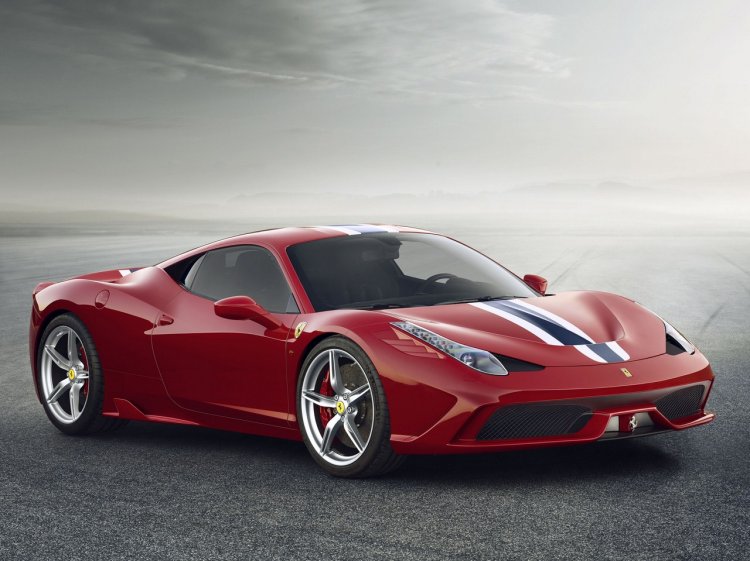 To strengthen vehicle dynamics, the Speciale gets Side Slip angle Control system (SSC) which co-ordinates with the traction control and E-Diff electronic differential to provide maximum possible car control. The rims are shod with Michelin Pilot Sport Cup2 tires which are designed to boost the on-track performance, specially designed for the Speciale.
The Ferrari 458 Speciale's response time (0.060 s) and lateral acceleration (1.33 g) are the highest ever achieved by a Prancing Horse. That of course is not counting Fernando Alonso's Ferrari.
You can get full details on the Speciale here.