The Ducati Multistrada range has undoubtedly made waves in the pond of adventure touring motorcycles. Though it may have been slotted under the 'adventure touring' segment, there is more to it. Multistrada has proven its mettle at the 'Pikes Peak' championship countless times and there are several other crowns under its belt. But with the changing motorcycling trends and entry of new-generation riders that don't stick to the same old preset class regulations, Ducati has cpme up with a smaller Multistrada which stands true to its legacy and is accessible to a wider set of audience.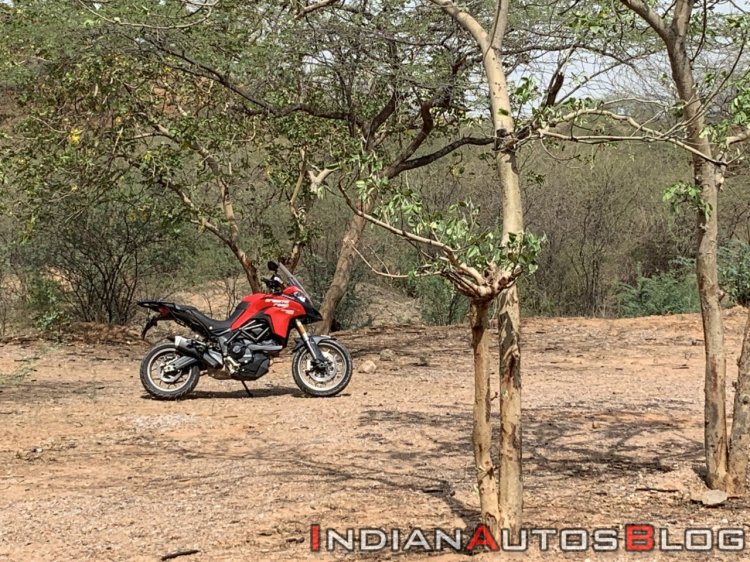 Dubbed Multistrada 950, it comes with a 937cc engine that is also shared with the Hyperstrada/Supersport. So, does a smaller engine make the Multi' less capable, or is it as much fun as its bigger siblings? Read our Ducati Multistada 950 review below to find your answers.
Design
It has always been challenging to design good looking adventure bikes. If you see, most of these bikes carry the same old bulky look. Elements such as bulky front-end, inevitable long windscreen, fat fuel tank, wide saddle, and higher ground clearance act as restricting bits for a design to be fully symmetrical. This is easily evident when you lookat the original Multistrada, which was introduced in 2003. It looked like a turtle taking a ride on a camel's head.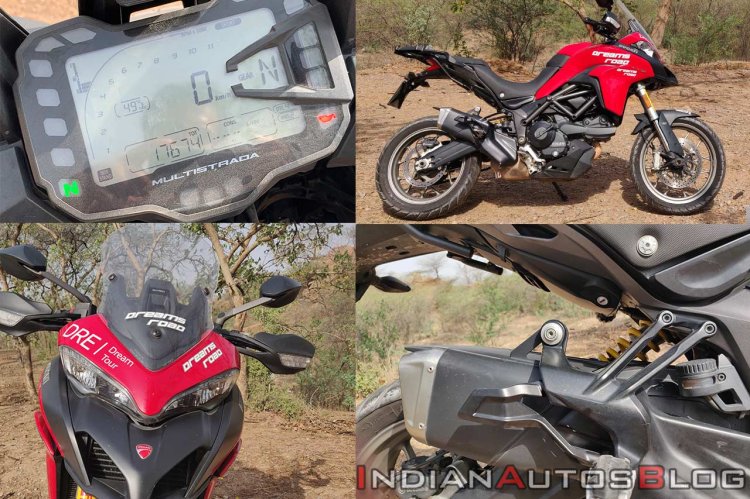 But thankfully, motorcycle designs have come a long way since then and adventure bikes don't look ungainly anymore. The Ducati Multistrada 950, for instance, looks like a predator that is ready to pounce. Also it appears to be a clone of its bigger siblings, which definitely works in its favor. At the front, it gets a matte black finished beak with nostril-like air-intakes and a small Ducati logo positioned right at the centre. The headlights are wide and are perfectly designed to complement the 'predator' look. Anther highlight is a manually adjustable fly-screen that is not only designed well but is also highly functional.
On the flip-side, the motorcycle misses out on the LED headlights and the single-sided swingarm, like the one seen on its bigger siblings. The fit and finish levels on the bike are phenomenal, as expected from a Ducati. Even the switchgear quality is top notch , which means the company hasn't cut corners in the pursuit of making an affordable adventure touring motorcycle.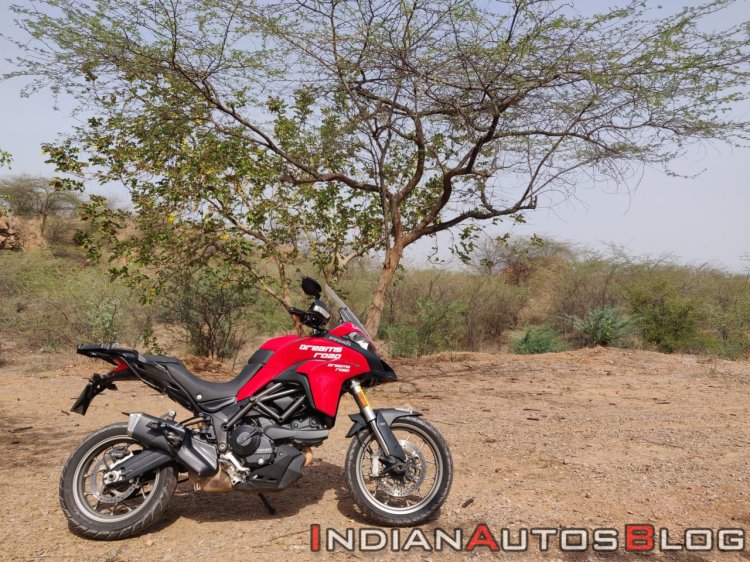 It carries a fully LCD instrument panel that is shared with the Multistrada 1200. Displaying all the necessary information in a highly readable and uncluttered format, this display packs in information like current speed, rpm, gear indicator, fuel level indicator, engine coolant temperature, ambient temperature, riding modes, and much more.
Engine and Performance
The main reason for the 950's existence is its smaller engine, which pomised to make the motorcycle more enjoyable for the new riders. Ducati has given it the same 937cc, liquid-cooled 90-degree L-twin engine which is also seen on the Hypermotard/Supersport. This engine delivers 113PS of maximum power, 96Nm of peak torque and comes mated to a 6-speed transmission. For Multistrada 950, the company has re-tuned the ECU and intake system in order to change the way the power is delivered to the rear wheel.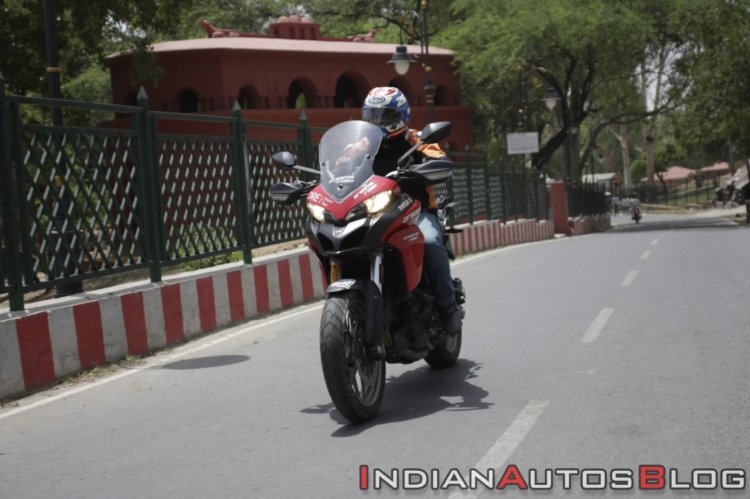 The bike offers four different riding modes - Sport, Touring, Urban and Enduro. The Sport and Touring modes are full power options while the latter two cut off the power to 76PS. But that's not all as each mode is customizable for engine power, ABS, and traction control. It can be done via buttons added to the left side of the handlebar but you will need a day or two to get used to it. The Ducati Safety Pack (DSP) offers 8-level traction control and 3-level ABS.
The engine accelerates with a punch from as low as 3,000rpm, and has been tuned to deliver a meaty low and mid-range. There is enough torque available between 3,500rpm and 9,500rpm and if the official figures are to be believed, about 80% of the torque is delivered right in this band. But if you still find the power too intimidating for your daily commute, you can always switch down from Sport to the Urban mode, which calms down the engine and makes the electronics more active. Other than that, fueling is precise and on-off throttle transitions are smooth enough, which is evident especially when you trundle around in the slow city speeds. All in all, the Multistrada 950's engine is a delight to use. It delivers a strong punch at just the right spots and you have ample power at your disposal in most riding conditions..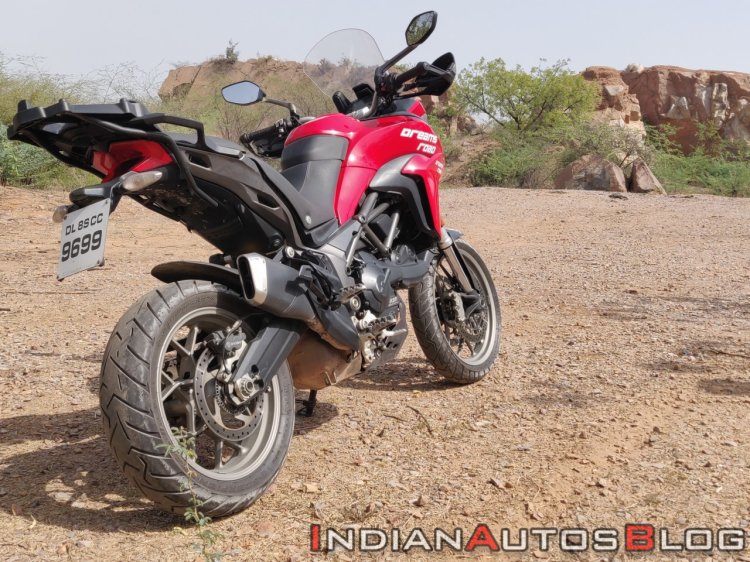 Ride, handling and comfort
The rider sits perfectly straight due to the mid placed foot pegs and the wide handlebar that provides enough leverage for you to muscle the bike around. The riding position is nuetral, thus suffciently comfortable. Also, its wide saddle accommodates riders of all sizes and should be good enough even on the highway rides. Speaking of which, its windscreen does a decent job of deflecting majority of windblast on highway speeds. Like all big displacement engines, this one turns hot and shows its heat but surprisingly it was still manageable even in clogged up traffic. To my surprise, it didn't boil my legs and its heat management system deserves a huge thumbs up.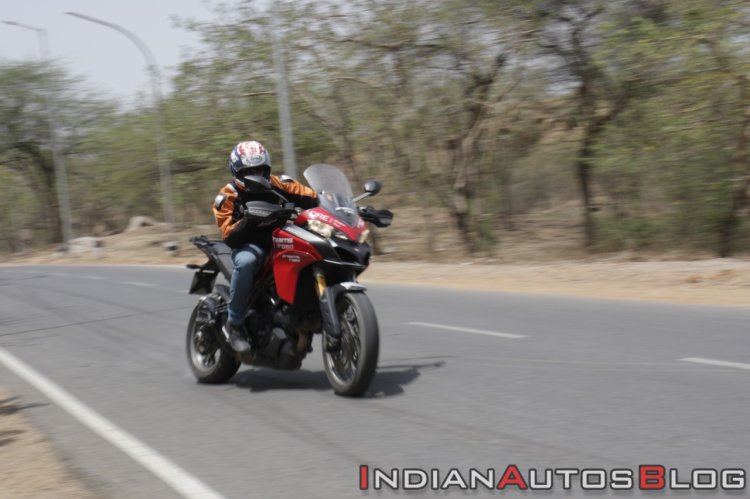 Like an average adventure tourer, the Multistrada 950 sits higher from the ground. To quote the numbers, its seat height is close to 840 mm, and it is a non adjustable one. But you don't need to shy away as this height can always be altered with accessory seats (820mm-860mm).
It comes kitted out with KYB 48mm fully adjustable front forks, and a Sachs monoshock unit at the rear. The setup makes sure that the bike simply glides over all the undulations that average city roads have to throw at it. At the same time, you can take it off the road and you will be all smiles. Though it does not qualify to be called an off-roader but it is still rugged enough to take on any kind of terrain with ease. At the same time, there are better options available from Ducati in the same range if you really are an off-road junkie.
The bike weighs 229 kg (kerb weight), which may be on the higher side at least on the paper, but to my surprise, it does a tremendous job of hiding all that weight once it's on the move. And then the best part, you hook it around a corner and realize that it is much more than your average adventure bike. This thing can handle and handle very well. If you know the right lines, you can confidently dip the bike into a corner and the front sticks on to the ground like a leech. But at the same time, don't expect it to make sideway changes as quickly as, say, a sportsbike. Thanks to a higher centre of mass makes sudden direction changes a tad slower. In short, the Ducati Mutistrada 950 is hands down one of the best handling adventure bikes that can take on serpentine roads like a pro.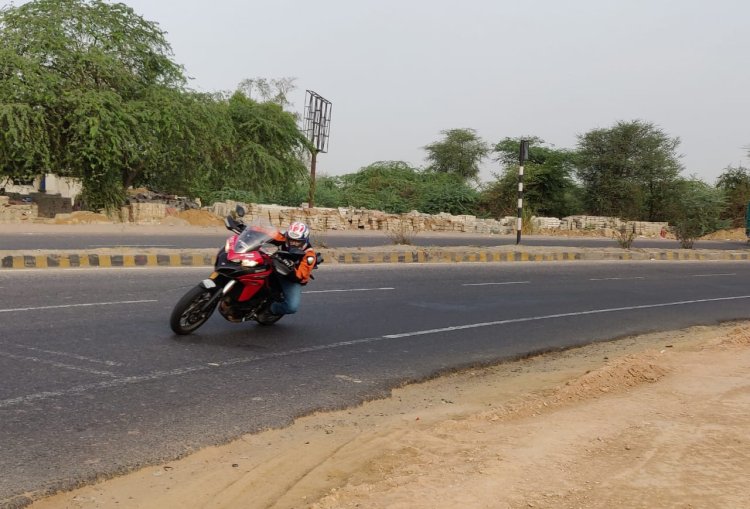 The combination of 19-inch front wheel and 17-inch rear is also majorly responsible for making it handle the way it does. The wheels come shod with Pirelli Scorpio Trail II tyres that have incredible grip on the asphalt grip. They are even good for use on mediocre off-road trails. The Multistrada 950 offers radially mounted Brembo Monobloc 4-piston callipers with twin 320mm discs up front.The rear setup has a 2-piston floating calipers setup with a 265mm rotor. The Multistrada 950 drops anchor in no time, especially at the front, which reacts to even minimal single finger inputs. The rear brake, too, has massive bite, and the combination of both the brakes, along with the safety net of ABS, makes the Multistrada 950 a fairly safe motorcycle.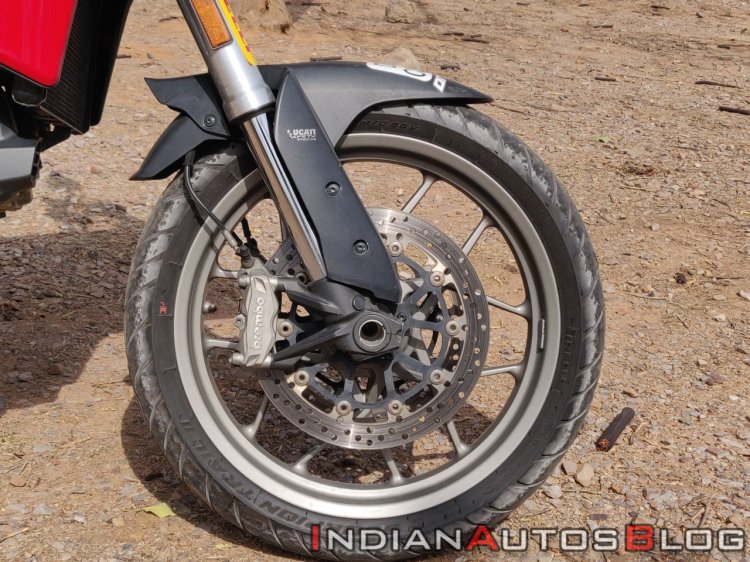 Also Read: KTM RC 125 ABS - First Ride Review
The final words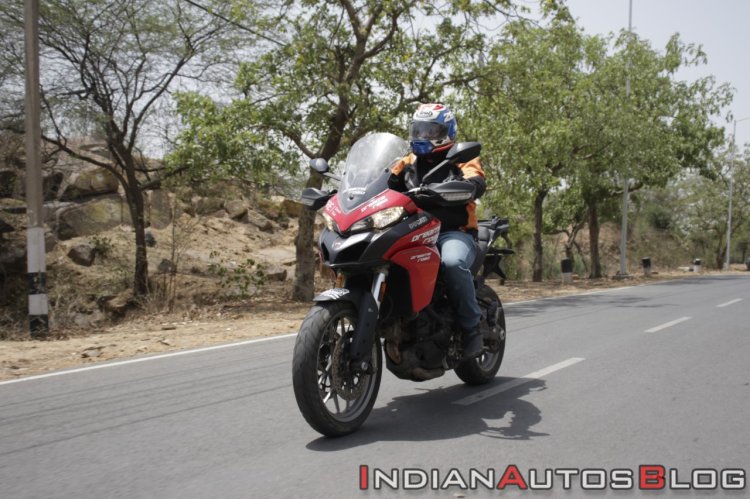 The name Multistrada brought a revelation in the world of adventure touring motorcycles. With the introduction of a smaller, Multistrada 950, Ducati has proven that you really do not need big numbers to have fun. It comes out as an extremely impressive package that has twice as much to offer when compared to anything else in its segment. Be it touring, commuting, dirt riding or even race track, Multistrada 950 can handle it all and hence is the jack of all trades.