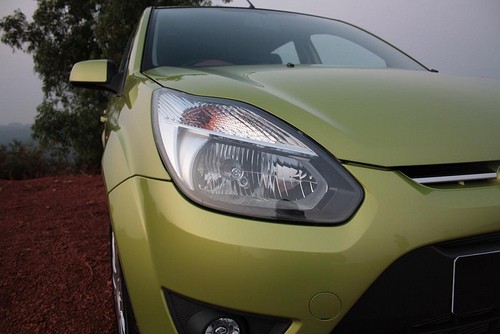 Ford India has hit the jackpot with its small car Figo. The Ford Figo sold more than  16,000 units within 14 weeks of its launch. This is a tremendous achievement for any car manufacturer in India.
The Figo sold in such huge numbers mainly because of the value it offered. The frugal diesel engine was another main selling point. Ford would soon be ramping up Figo's production at its Chennai plant to meet the excessive demand for the Figo.
The diesel model has slightly outsold its petrol sibling with at least 60% of the buyers going for the oil-burner. Majority of the Figo buyers prefer the high end variants, ZXI and Titanium. Ford has been overwhelmed by buyer's preference to these variants of the Figo.
Even Delhi and Mumbai which are not considered as Ford's prime markets, have a large number of Figos plying on the roads. Figos have become dime a dozen in Ford's home market, Chennai.
Just before the launch of the vehicle, Ford India expanded its dealer network to 165 outlets  and this has contributed to the success of the Figo considerably. Ford India is also keen on increasing the number of its dealers and is looking to expand its network to about 185 dealers by the end of 2010 and 200 dealers by the end of this fiscal year.
Ford Figo's good sales performance could also be boosting the sales of its stablemates, the Fiesta and the Ikon slightly.