One of the key events in the Indian automotive scene this year is the introduction of the Datsun brand. Nissan had confirmed last year that the Datsun name would be revived for emerging markets such as India, Indonesia and Russia and recently South Africa.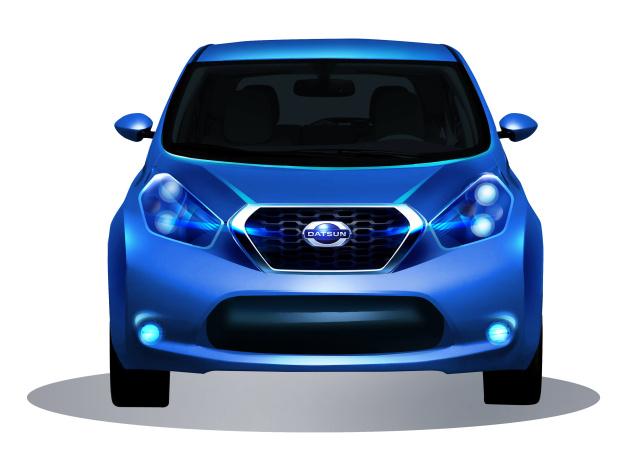 We earlier told you that the Datsun brand would be officially announced in India on July 15th with Renault-Nissan CEO, Mr. Carlos Ghosn taking the trip.
Datsun would first launch a hatchback, codenamed the K2, to compete with the likes of the Maruti Wagon R and the bunch. The K2 would be based on the Nissan 'V' platform that currently underpins the Nissan Micra and the Sunny. This is a render of what the first Datsun product could look like.
This render which has appeared on Hindu Business Line was created with inputs from project members and a person who has seen the car. The wheels of the car have apparently been pushed to the corners for the best space utilization. There is absolutely no rear overhang and very minimum front overhang. The bumper is a three-stage construction, done so to reduce repair costs.
The bottom part of the hatch has been pushed outward to free up more luggage space, adds the report.
Expect some parts of the K2 to be shared with the Nissan Micra. However, Datsun would price the K2 from about 3.5 lakhs, significantly undercutting the Micra. The most important component that would be shared with the Micra would be its 1.2-liter petrol engine (perhaps downsized to displace 1-liter) and its 5-speed gearbox. As of now, there is no diesel engine in the pipeline.
The Datsun K2 is being engineered and designed by the Renault Nissan Technology and Business Center located in Chennai.
Once the K2 is introduced in the market sometime next year, expect the smaller Datsun I2 to follow next. The I2 would be taking the fight to the Maruti Alto 800 and the Hyundai Eon, while the K2 locks horns with the Maruti Wagon R and the Hyundai i10.
[Source - Business Line]