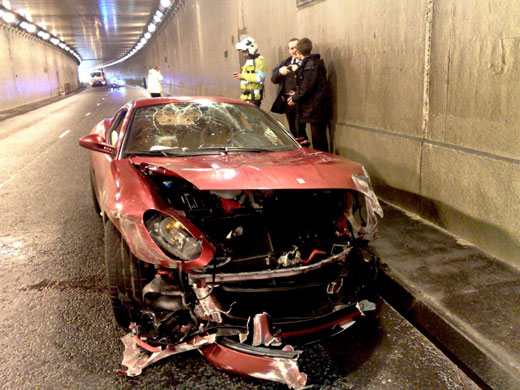 The Young Portuguese Soccer star and Manchester United FC player Cristiano Ronaldo crashed his Red Ferrari 599 GTB Fiorano into a roadside barrier inside a tunnel just outside Manchester Airport, United Kingdom.
Cristano spoke to the police at the scene of the accident and thankfully no serious injuries were reported except to his Ferrari which he was driving and it has been totally smashed up, mainly from the front. The Manchester United star has insisted he was not to blame for the crash.
Cristiano - "Crash was caused by moisture and oil on the road"
A source close to his family told Portuguese newspaper Corrieo da Manha: "He said the crash was caused by moisture and oil on the road."
The accident happened at about 10:20 AM on Thursday on the 8th of January. Twenty-three year old Ronaldo is presumed to have been traveling alone in the car when the incident took place. He was protected by Ferrari 599 GTB Fiorano's powerful and strong 6.0-litre V12 engine placed up front. This engine which can produce a massive 456kW (612BHP) is capable of a top speed of over 330 km/h (205 mph).
The reigning European Footballer of the Year quickly became a controversial figure not only with Manchester United, but also with the international footballing community as well. During the 2006 FIFA World Cup he was speculated to have influenced the red-carding of Manchester United teammate Wayne Rooney during the quarter final match.
Ronaldo has spent around £2 million on a stable of luxury cars since his move to Manchester five years ago. He owns two Porsche Cayennes, one Audi R8, a Porsche 911 Turbo and a Bentley Continental GTC.
Ferrari lover? don't forget to check out