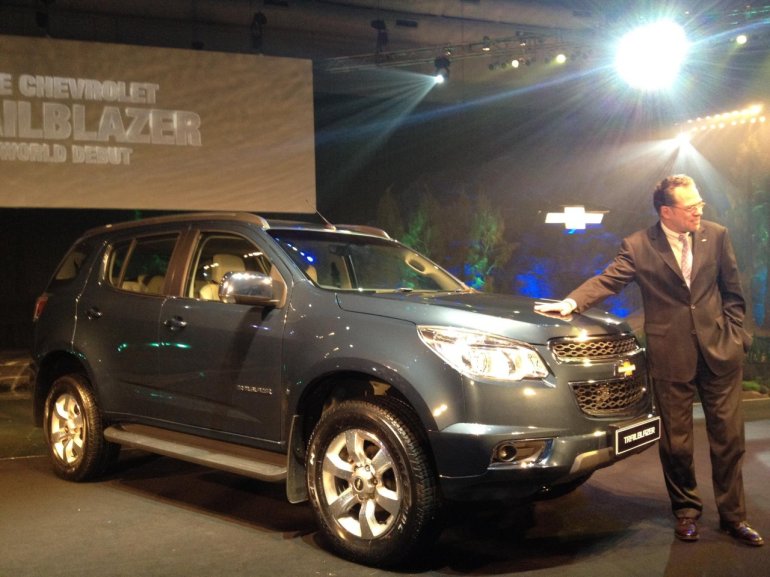 At the launch of the Chevrolet Tavera Neo3 in New Delhi today morning, GM India's CEO Mr Lowell Paddock made it clear that the Chevrolet Trailblazer, unveiled today in Thailand, isn't an opportunity they want to miss.
Lowell Paddock on the Chevy Trailblazer to Indian Autos Blog -
I think its a perfect product. At this point there are no plans for that vehicle in India. Certainly as the SUV market develops we'll keep paying attention to it..but its a very impressive product.
On asked about the mini SUV market and their participant, Paddock told Indian Autos Blog -
Our focus this year is to go into the mini MPV/MUV market which we think is much larger than the SUV market and you will see a product from us towards the latter half of the year (the Njoy MPV shown at the Expo) that will amply demonstrate our capabilities there. We think that's a richer pool of customers at this point than a small SUV. We have the (new) Captiva (launching in India), we will then see where the small SUV market goes.
The Trailblazer could be positioned below or alongside the Captiva to take the Fortuner head-on. This could happen in 2013. Similarly, the mini SUV option will not be introduced in 2012, it may take GM a little while before it is brought into India. Mr Paddock did not comment on whether a mini SUV will be developed with its Chinese partner SAIC or the Chevrolet-badged Vauxhall Mokka, a global GM mini SUV, would make it to India.
We're waiting for better answers, so stay tuned to IndianAutosBlog.com