In a video message sent out by GM Brazil, the company president Mr. Jaime Ardila said: "In a few months, the Chevrolet Tracker will take to the streets."
[Can't see the video above? Head over to Youtube]
This the second confirmation from GM Brazil for the launch of the baby SUV following teasers posted on their Facebook page a few days ago. The Tracker is sold as the Trax in Europe and has badge engineered Buick and Opel versions around the world.
From this month end, dealerships will start training staff to handle sales and service of the product. By the end of August or in early September, the Chevrolet Trax would reach the market, priced between 67,000 reals (INR 17.67 lakhs) to 71,000 reals (INR 18.73 lakhs).
The SUV is 4.24 meters long and 1.77 meters wide, with a wheelbase of 2.55 meters and trunk capacity of 358 liters. Dimension wise, it is sandwiched by the EcoSport and Duster.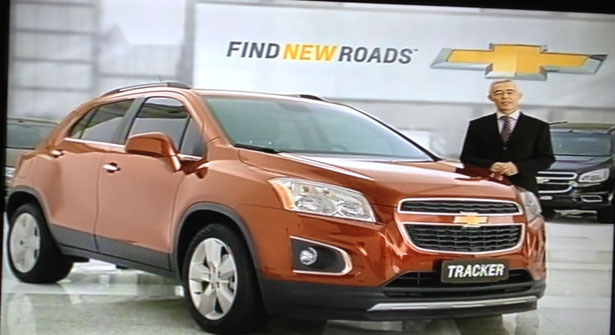 The Tracker will come from GM's production plant in Mexico. LT and LTZ variants strapped with a 1.8 16v Ecotec Flex engine producing 144 horsepower at max, would give GM a serious chance of making headway in a market segment that's dominated by the EcoSport and Duster. Variants would come with a six-speed automatic gearbox or a five-speed manual.
Some of the features specified by Autos Segredos are sunroof, Chevrolet's MyLink system, ABS brakes and front airbags.
[Source - AutosSegredos.com.br]