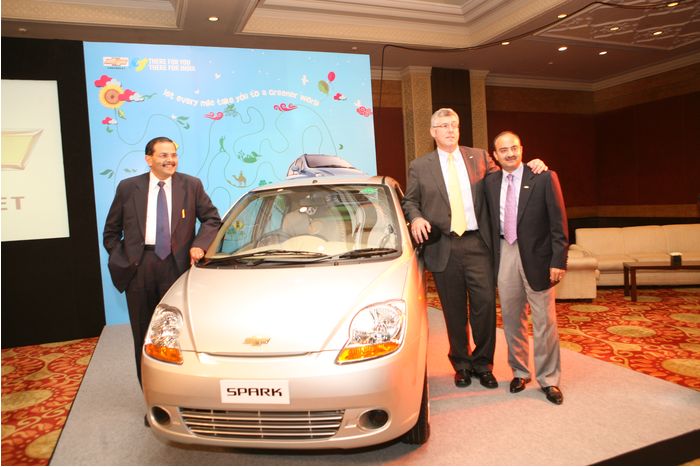 The eagerly anticipated Chevrolet Spark LPG was launched in Delhi today morning. The Chevrolet Spark LPG is different to the regular version with beige interiors and Certified Factory Fitted Next Generation Sequential Injection-type LPG kit.
On the international front, many companies have put forward their kits, the most notable was from Farhrmitgas last year.
The Spark LPG discussions began last year on Indian Autos Blog. We expect the company to follow this model up with the 800cc Spark with the pricing below the Maruti Suzuki Alto.
The Chevrolet Spark 1.0L PS/1.0L LS LPG uses Sequential Injection-type LPG kit, which Chevrolet claims employs new that hold a big advantage over the venture-type LPG kit available in the market today. The engine can also run on petrol in the absence of LPG.
Chevrolet Spark LPG launch Image Gallery
Chevrolet Spark LPG base model price - Rs 3.52 lakh (ex-showroom Delhi)
Formore information visit the Official Spark website
Press Release
GM India launches next generation LPG Model in Chevrolet Spark

Premium Beige Interiors to make the car Sporty and Stylish

Reaffirms long term commitment to Indian Consumer

New Delhi: On the occasion of World Environment Day, General Motors India today launched the LPG version of its best selling model, Chevrolet Spark, at a function presided over by its President and Managing Director, Mr. Karl Slym.

The environment friendly LPG model features premium beige interiors with a Certified Factory Fitted Next Generation Sequential Injection-type LPG kit, latest in terms of technology which is far superior to the venture-type LPG kit available in the market today. The beige interiors with other existing features and amenities make the award-winning small car more sporty and stylish. The engine can run on petrol in the absence of LPG.

Speaking on the occasion, Mr. Karl Slym, President & Managing Director said, "Launch of the LPG mode reiterates Chevrolet's vision of moving towards environment friendly alternative fuels. We plan to continue to introduce variants of the Spark that target different groups of customers. This will enable us to achieve our goal of becoming a market leader in India by giving our customers the vehicles that they want when they want them."

The next generation LPG model offers many advantages, including:

* Factory Fitted Kit leading to an enhanced quality product
* No engine backfire while changing to LPG mode or back to petrol – ensuring a smoother drive
* Better fuel economy and lower running cost with best in class mileage
* Industry first 3 yr/1,00,000 km warranty on LPG, same as in petrol
* Better power and pick-up for a more spirited driving experience
* Lower emissions through the use of more Environmentally-friendly fuel

GM India has also given the Chevrolet Spark new Beige interiors across all variants, enhancing the Spark's premium aura and adding to its statement of pure style. Mr. Slym added that this double offering of an alternative fuel option and premium beige interiors will further consolidate the Chevrolet Spark's position in the marketplace. It will also reassure Chevrolet's customers that we consider their invaluable suggestions to upgrade our products."

Thanks to its intelligent packaging and 2,345-mm wheelbase, the five-seater offers a comparatively large amount of space and a feeling of roominess. The Spark comes with a generous assortment of standard convenience features and smart storage spaces. The Chevrolet Spark is the world's best compact city car and over 3.5 million vehicles have been sold the world over so far. It has set new standards for its segment through its modern design, clever space utilization, affordability and solid engineering.

It may be recalled that the Chevrolet Spark has consecutively won the prestigious J.D. Power Initial Quality Study (IQS) Award for two years in a row, in 2007 and 2008 for its class-leading quality attributes and has also been rated best-in-class in terms of fuel economy by journalists across the country. The Spark has also won the special 'Best Value Car for Award' also from BS Motoring recently.

The Chevrolet Spark LPG comes in two variants – 1.0L PS and 1.0L LS. Both come with a certified, factory fitted LPG kit as well as the three-year/100,000-km standard company warranty, which is an industry first in the mini-car segment. In addition, the consumer will also receive our industry first unique add-on service maintenance package, the 'Chevrolet Promise – Cashless Ownership Offer,' which frees the customer from maintenance-related costs for three years or 45,000 km (whichever comes first).

General Motors India has two state-of-the-art manufacturing facilities at Halol in Gujarat and Talegaon in Maharashtra. General Motors India manufactures the Chevrolet Optra Magnum, Chevrolet Aveo, Chevrolet SRV, Chevrolet Aveo U-VA, Chevrolet Spark, Chevrolet Tavera and Chevrolet Captiva for the Indian market.