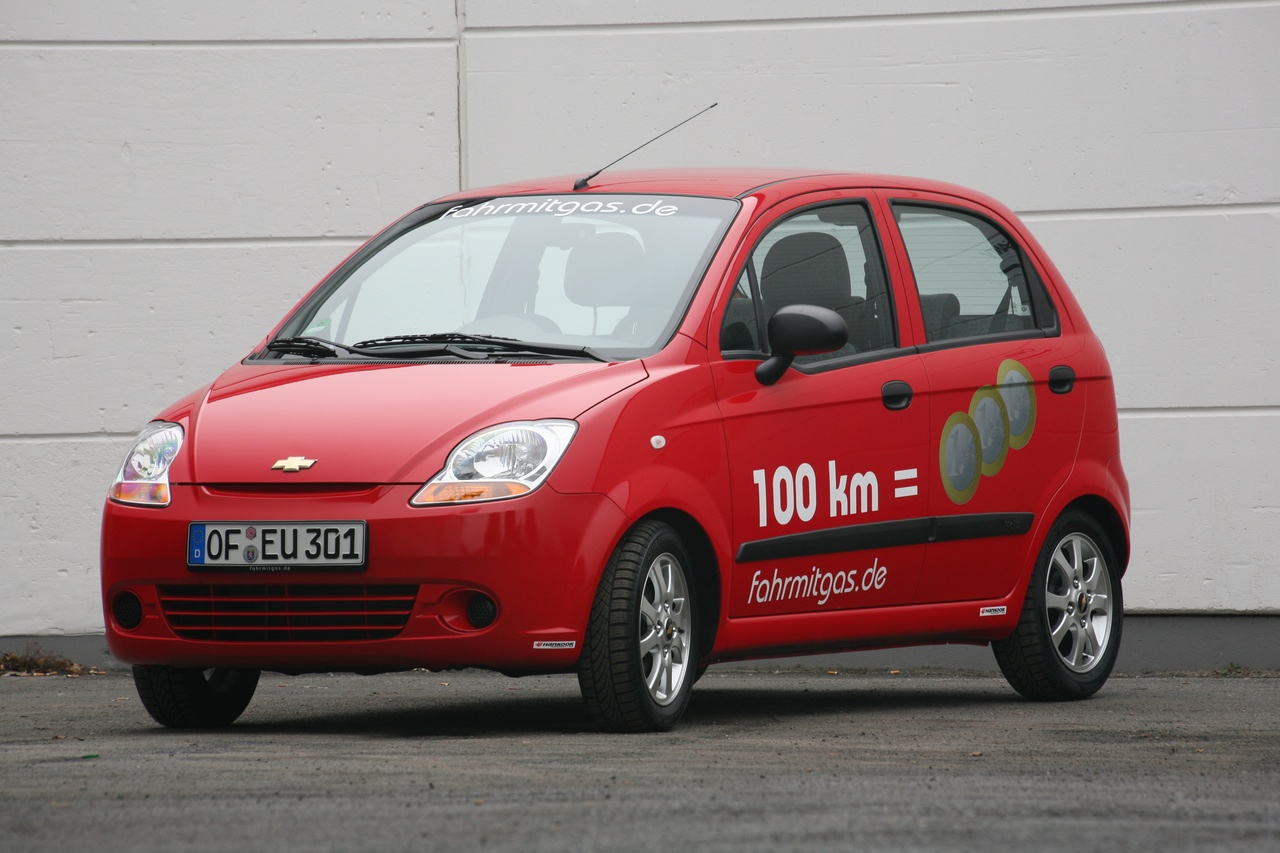 The Chevy Matiz is quite popular in Germany and a German company called 'Farhrmitgas' (means Drive on Gas) has come up with a concept of a Chevy Matiz that has been converted to run on LPG. They claim that this cute car is capable of travelling 100Km (62miles) on just 3 Euros worth of gas!
'Fahrmitgas' is a supplier of LPG conversion systems, that they optimise for certain vehicles. The Matiz is powered by a 796 cc three-cylinder engine that produces around 63bhp and has been re-tuned to optimize its performance with the autogas that has an octane rating of 111. The trick that they had followed was this- allowing the engine to run closer to the knock limit so that the engine produced more mid-range torque and lower fuel consumption.
Taking a forward stride, they have added a Stop-Start system, low rolling resistance tires from Hankook, new springs and have even reduced the frontal area by lowering the ride height. The LPG Matiz is not currently a regular production model, but the conversion kit can be ordered through the Chevrolet options catalog.
IAB Comment- India is not short on such systems either. There are lots of aftermarket tuners and gas agencies that can do the conversion for around Rs 20,000 but you cant expect the same level of expertise as these Germans have.
2009 Farhrmitgas Chevrolet Matiz Image Gallery
PRESS RELEASE
The '3-Euro Car': The fahrmitgas.de Concept Car Based on the Chevrolet Matiz Consumes Just Three Euros of Fuel per 100 Kilometers

It sounds like a modern-day fairy tale: Drive a full 100 kilometers and spend just three Euros on fuel for doing so – and all in a vehicle that is also highly affordable. fahrmitgas.de, one of the leading designers and suppliers of model-specific autogas systems, have developed the '3-Euro' concept car based on a Chevrolet Matiz. It runs on LPG autogas making it both especially fuel efficient and exemplary eco friendly.

As a systems supplier for Chevrolet in Germany fahrmitgas.de has decades of experience designing autogas systems for Chevrolet vehicles.

The three-cylinder gasoline engine with a displacement of 796 cc is the smallest in the Matiz model lineup. It is equipped with a fahrmitgas.de autogas system that can be ordered as special equipment from the Chevrolet options catalog.

In addition the fahrmitgas.de specialists have modified the alternative drive system in many details. Extensive bench tests were used to determine new parameters for the engine management system that adapts the concept car specifically to the special qualities of 111-octane autogas. Special emphasis was placed on optimizing power yield at medium engine speeds and more efficient operation close to a knock limit much higher than that of gasoline. Both measures result in significantly reduced fuel consumption.

Yet another fuel-saving feature is an automatic stop/start system that turns off the engine if the car is stopped for more than three seconds. A push of a button suffices to bring the engine back to life instantaneously.

On average, one out of every five time a car needs refueling, the entire tank will be used for overcoming the rolling resistance inherent in the tires. fahrmitgas.de equips the sub-compact with eco-friendly Hankook Optima 4S low-resistance tires. The Hankook Optima 4S is the only tire in the world quiet enough and with rolling resistance low enough to hold Germany's eco seal, the "Blue Angel."

The installation of HEARTBEAT Motors suspension springs lowers the ride height of the Chevrolet Matiz by some 30 millimeters, reducing both aerodynamic drag and fuel consumption.

Another important criterion for achieving '3-Euro Car' status is the driver him- or herself. An auxiliary green-yellow-red display in the cockpit helps the driver to operate the '3-Euro Car' at maximum efficiency.

The result speaks for itself: Three Euros worth of autogas can carry the fahrmitgas.de concept car over a distance of 100 kilometers. No other car can duplicate that feat. What's even better: The optimized car is also more eco-friendly than its production counterpart. CO2 emissions drop by approximately 15 percent.

fahrmitgas.de is exploring the possibilities of turning the '3-Euro Car' into a production vehicle. No sales price has been projected yet.

fahrmitgas.de is a subsidiary of
Automobile Technik & Innovation GmbH
Messenhäuser Str. 47
63322 Rödermark
Germany
Phone +49 / (0) 60 74 / 2 11 00-0
Telefax +49 / (0) 60 74 / 2 11 00 15
E-mail info@fahrmitgas.de
Website www.fahrmitgas.de
Source-Auto Blog Green