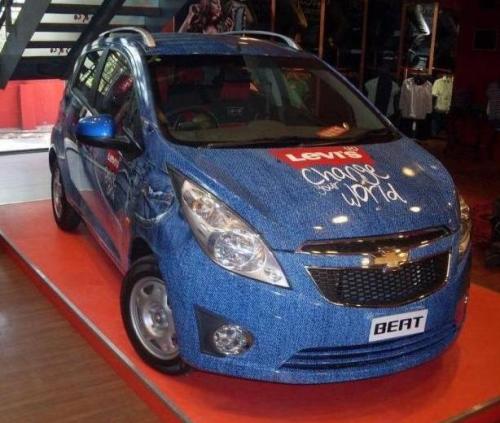 Chevrolet has joined Levi Strauss for celebrating the latter's 15th year anniversary in India. The duo have made an exclusive Chevrolet Beat with a blue denim paint job and matching denim interiors for Levi Strauss' 'Wear Your Beat' contest.
If you remember last year in China, General Motors clothed a Chevrolet Aveo U-VA in denim.
Contestants are expected to wear any Levi Strauss apparel and pose next to the Denim Beat displayed at the any of flagship Levi's stores in India and file the photograph under any the three categories, viz. tough, sexy and smart on the Wear Your Beat website. Winners are chosen and by online voting and the lucky person gets to drive off in the exclusive Chevrolet 'Denim' Beat.
The Chevrolet Beat is a funky looking car aimed squarely at the young generation and through out of the box campaigns like this Chevrolet surely knows the way to attract the attention of the masses. Chevrolet has to come up with more innovative advertising initiatives as its main rival Ford Figo has already accomplished much more than what everyone anticipated it to.
click through for image gallery
Chevrolet Denim Beat Image Gallery