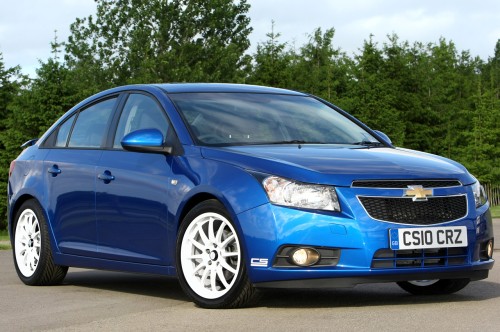 The Chevrolet Cruze is being offered with a special styling package in the United Kingdom. The CS sports performance package is being offered on all variants of the car. The Chevrolet Cruze CS has been inspired by the Chevrolet Cruze BTCC (British Touring Car Championship) race car.
The Chevrolet Cruze CS comes with a rally car like 12-spoke white alloy wheels, a lowered stiffer suspension, rear spoilers, 'CS' graphics and matching interior carpeting. The CS package for the Chevrolet Cruze comes at a premium of 1,595 GBP (1,12,812 Indian Rupees) over the standard car.
Would GM India offer a CS package on the Chevrolet Cruze in India? No way!
The Chevrolet Cruze is the segment leader as of now and in the unlikely event of the Cruze losing its market share to the Corolla Altis Diesel or the future Hyundai Elantra, GM could offer an 'attractive pseudo-CS package' albeit with discounts. But that would not happen anytime now as the Cruze is 'cruising' its way to glory in the market place.
Source: Leblogauto