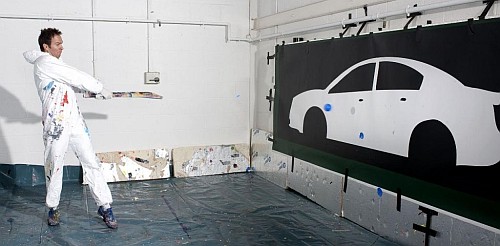 Micheal Vaughan tries flat-batting a colored cricket ball to paint a Chevrolet Cruze!
This isn't some kinda April Fool's joke.
Believe it or not, former English cricketer and captain of the historic 2005 Ashes campaign has nothing useful to do after he retired from international cricket. So he's dug out his old bat, picked up a few cricket balls and paint and headed straight to a wall. He'll then try creating the outline of the Chevrolet Cruze using his stroke play.
Michael Vaughan on his artwork -
Creating art with cricket balls is completely different, modern and new. It changes the rules of art because it's instinctive and raw – covering a ball in paint and whacking or throwing it against canvas. A few of the other players initially took the mickey, but they are now "artballing" fans – and have had a go themselves
I have no idea what he just said.
Somebody give this man another job.
Press Release
Ex-England cricket captain creates unique car-art

LUTON, UNITED KINGDOM – March 30, 2010: Ex-England cricket captain Michael Vaughan has today turned his hand to contemporary art by creating the world's biggest "artballing" painting – a 16 by five foot image of a Chevrolet Cruze car created by hitting and throwing paint-covered cricket balls against a blank canvas over 5,000 times.

Vaughan, 35, who led England to a historic Ashes victory in 2005, has been compared to artists Jackson Pollack and Damien Hirst due to the unique way he creates his art. An original "artballing" painting can fetch as much as £20,000 at art auctions with celebrities including Lily Allen and Piers Morgan counting themselves as fans.

Chevrolet, the value for money car-maker, commissioned the cricketing artist to create his biggest work yet of their new Chevrolet Cruze. The painting took eight hours to create with Vaughan calling on his cricketing expertise to accurately recreate the bodywork, tyres and alloys on canvas using five different coloured cricket balls and over 20 litres of paint.

Michael Vaughan comments
"Creating art with cricket balls is completely different, modern and new. It changes the rules of art because it's instinctive and raw – covering a ball in paint and whacking or throwing it against canvas. A few of the other players initially took the mickey, but they are now "artballing" fans – and have had a go themselves."

Les Turton of Chevrolet comments
"The new Chevrolet Cruze proves that style and substance can come together and is changing the rules for cars in its class, so what better person to paint a picture of our car than Michael Vaughan who is changing the rules in the world of art."