At the 2015 Geneva Motor Show, the Cadillac ATS-V and the third-generation Cadillac CTS-V had their European premiere, while the Chevrolet Corvette returned to a trade fair before going on sale in Europe this year.
Cadillac ATS-V
The ATS-V is Cadillac's first vehicle from its V-Series featuring a twin-turbo engine. Standard on both coupe and sedan, the 3.6-litre unit produces more than 450 PS (444 hp) and over 600 Nm of torque. The engine can be paired with either a 6-speed manual transmission or an 8-speed automatic transmission.
The ATS-V can hit 100 km/h from a standstill in just over 4 seconds and record a top speed of 299 km/h. The ATS-V arrives in Europe this fall and in Germany, the sedan will be priced from €74,900 (INR 50.99 lakhs) and the coupe will be priced from €77,500 (INR 52.76 lakhs).
Cadillac CTS-V
The third-generation CTS-V is the brand's most powerful model in its 112-year history. The performance luxury sedan sports a new supercharged 6.2-litre V8 engine that produces more than 640 PS (631 hp) and over 850 Nm of torque.
An 8-speed automatic gearbox channels power to the rear wheels. The CTS-V reaches 100 km/h from rest in less than 4 seconds and accelerates further till an estimated top speed of 320 km/h. The all-new CTS-V arrives on Europe shores in early 2016.
Chevrolet Corvette Z06
The 2015 Corvette Z06 is Chevrolet's flagship vehicle that's also tasked with keeping the brand alive in Europe. Under the hood, there's a 6.2-litre supercharged V8 engine that develops 659 hp and 881 Nm of torque. The engine can be coupled with an 8-speed automatic transmission or a 7-speed manual transmission. The Corvette Z06 can reach 0-100 km/h in 3.4 seconds (8-speed automatic)/3.8 seconds (7-speed manual).
Both coupe and convertible models will be available later this year. In Germany, the Z06 coupe will be offered at €109,500 (INR 74.54 lakhs) and the Z06 convertible will start at €114,500 (INR 77.95 lakhs).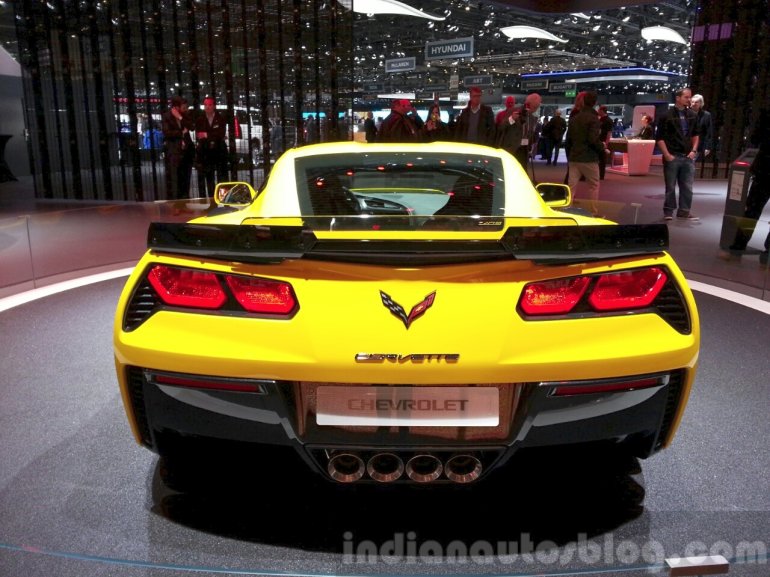 First deliveries of the manual transmission variant and the automatic transmission variant are expected in spring of 2015 and early summer respectively. Further information can be found in the press releases below.
Cadillac at the 2015 Geneva Motor Show - Press Release
[Can't read the document above? Head to Slideshare.]
Chevrolet Corvette Z06 - Press Release
[Can't read the document above? Head to Slideshare.]