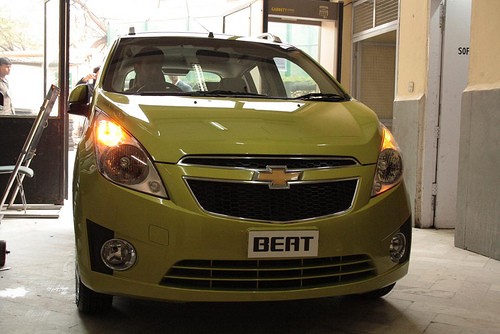 The Chevrolet Beat keeping GM India busy
These are busy times for GM India. The company has announced that it would introduce a second shift at its Talegaon plant to meet the order book of Chevrolet Beat.  The shift is being introduced as the Talegaon plant manufactures the Spark and the Beat and both these cars have received a good response in the market.
P Balendran, Director and Vice President for Corporate Affair, GM India had this to say to Business Standard -
Second shift operations were originally planned from June, but the company decided to prepone it to March, as the Chevrolet Beat saw over 10,000 bookings in the first 26 days. The B+ segment car, launched in January, has a waiting period of two months -

from March the company would scale up production to 400 units per day at Talegaon, from 200 units a day at present.

We have been able to deliver 2,825 Beats in January and target to deliver around 4,000 units in February. The Chevrolet Spark is also in high demand and has a waiting period of 45 days.
GM will also be introducing a third shift in their Halol plant which manufactures Aveo, Optra and Tavera to meet market demand. Here is an example of how different markets work. During the worst times of the recession, GM was cutting shifts and workers in developed economies like US. That has never been the case in the Indian market. In GM's case, it is too busy at the moment and growth is the clear target.
It is time for GM to introspect. Personally, the first good product from GM is the Spark, followed by Cruze and the Beat (not that the earlier models weren't good. There was nothing great about them. The company just does not have good car [like the Innova, City, Swift or Fiesta] to set the standard). I do not understand what took GM so long to get things right. Everything about the Spark, Beat and Cruze makes me happy. You talk features, price, build, appeal, ride quality, plastics - these new cars have it right.
Source - Business Standard