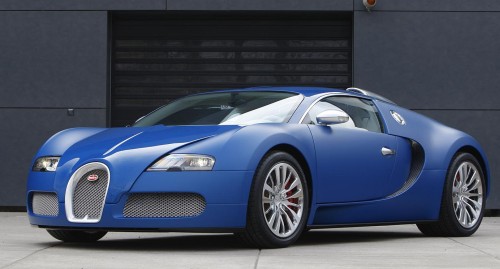 The big bad Bugatti Veyron has finally arrived in India and Exclusive Motors in New Delhi would be its official partner in India. Exclusive Motors already is the 'exclusive' dealer for Lamborghini and Bentley in India. The Bugatti Veyron comes with a 8.0 liter W16 quad-turbocharged 1,001 hp engine mated to a 7-speed DSG gearbox and the word 'acceleration' would be an understatement for its 2.5 second 0-100 kmph sprint.
Though Bugatti's official website doesn't mention the name of the its Indian dealership, but said it was located at Hotel Samrat, New Delhi. We guess Exclusive Motors would be selling the Bugatti Veyron from its Lamborghini boutique located in the same Hotel. It is to be noted that the Bentley boutique of Exclusive Motors is located adjacently at The Ashok Hotel.
Sources say that the first Bugatti Veyron in India has already been delivered to a Mumbai based real estate tycoon. We all know Bugatti Veyrons come only in a two-two paint job, this Bugatti is Black and the second color is not known so far. The Bugatti Veyron is said to cost between 16 to 17.5 crore Rupees including all taxes and duties. Soon two more Bugattis would be delivered to a South Indian business magnate.
Since Bugatti Veyron comes only as a left hand drive model, Bugatti is said to have requested the Directorate General of Foreign Trade (DGFT) to exempt the Veyron and permit it to ply on Indian roads. Would this mean other exotic marques like the Koenigsegg, Pagani, Spykar and all could come to India as a LHD version on a special basis. We wish DGFT could allow relatively cheaper, affordable muscle cars like the Mustang and Camaro to come in to India with special permissions.
One disturbing fact that we stumbled upon is that Bugatti's official website and Bentley's official website have a badly disfigured map of India (India without Jammu & Kashmir, precisely) on their pages.
News Source: BSM