Bosch Group's beyond mobility solutions have gained 35% and have contributed greatly to its turnover over the last few years. In India, Bosch is changing its conventional business areas to digital by transforming businesses beyond mobility. Do note that the mobility business is still the number one bread earner, as its contribution in net business is 85%.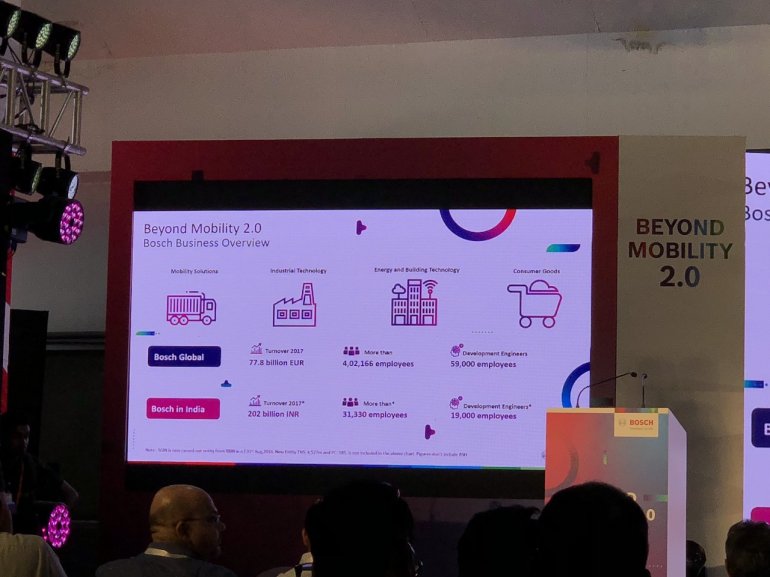 Last month, Bosch held Beyond Mobility 2.0 in Bengaluru, a biennial flagship event to showcase its connected solutions in verticals beyond the mobility space and highlight how it is embracing digital solutions in various sectors. The company laid out its plans to grow in sectors beyond mobility. It is pursuing a "3S" strategy: sensors, software, and services.
Bosch sees India as a land of opportunities. Infrastructure, energy, ports & waterways, airports high-rise buildings and metro rail are a few among many other businesses it sees itself entering/growing in. A key component of the beyond mobility offerings is Industry 4.0 technologies. The company is building smart factories with focus on automation, digitalisation, Artifical Intelligence and Internet of Things. These aspects boost productivity, quality and safety. At the end of last month, Robert Bosch Engineering and Business Solutions, one of Bosch Group's 13 companies in India, introduced an intelligent ecosystem platform called Phantom for SMEs to improve their efficiency.
Smart security solutions is another area Bosch is immersing itself. In a country having more than 1.3 billion people constantly on the move, metro stations and airports are core to the transport system. Here, the company wants to increase its relevance by offering smart security solutions with big data analysis that can make people safe in what are typically crowded places.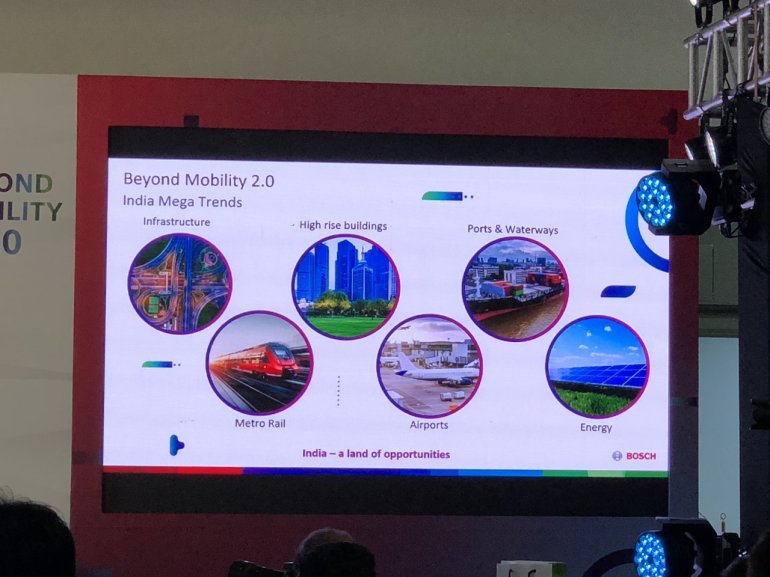 Bosch's smart security solutions include intelligent cameras, public address and voice evacuation systems, fire/intrusion alarms and much more. Unattended packages, suspicious movements, unexpected crowd behaviour and many more potential threats are addressed in real time, making the forces in charge of security at the nation's transport hubs alert in real-time. The company is using these security solutions for other critical infrastructure too, and the M. Chinnaswamy Stadium in Bengaluru is one of the widely known examples of that.
Bosch is betting big on robotics and automation, with the goal of making the "Factory of the future" a reality. Historically, workers have always been afraid of robots in the workplace, physically and mentally. Cobots (collaborative robots) are helping mitigate the physical fear, while for eradicating the mental fear, the company is demonstrating the productivity improvements, and in the long-term, it sees its workforce getting reskilled to sustain in the industry.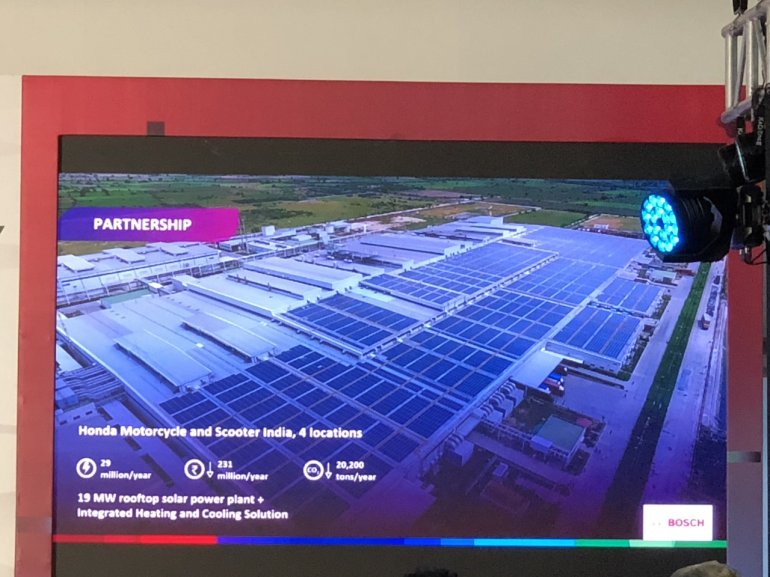 Smart manufacturing is about connecting man and machine to make the former smarter and more productive. Penetration of robots in our industries is still not up to the maximum potential. Compared to China, India has about 22 times lesser robots, and that shows how big the opportunity is in that space.
Bosch is banking on power tools, solar energy panels and home appliances as well for its growth in business beyond mobility. Implementation of solar energy in commercial establishments is helping them save costs significantly, while simultaneously reducing carbon footprint and reducing their reliance on conventional energy. The company said at the event that it has installed 19-megawatt rooftop solar power plant and provided integrated heating and cooling solution to Honda Motorcycle and Scooter India at four locations, thereby reducing the two-wheeler manufacturer's costs by INR 231 million annually and reducing the CO2 emissions by 20,200 tons/year.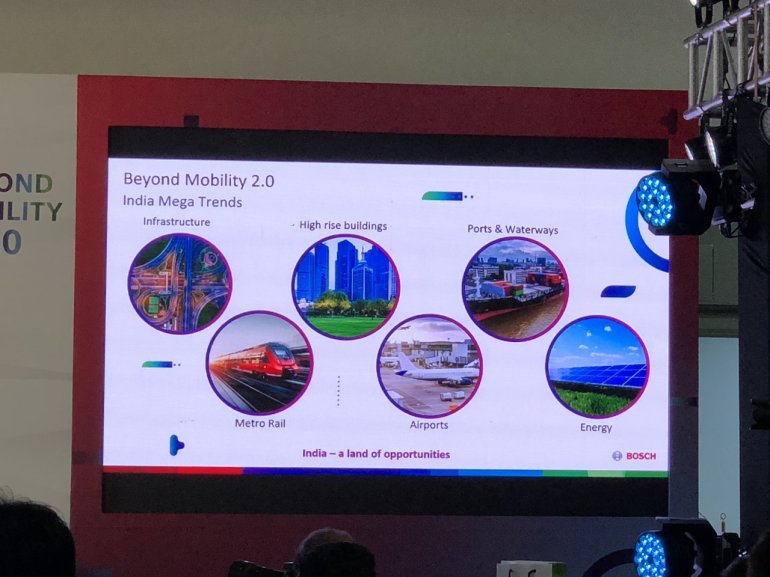 In power tools business, Bosch is working on expanding its footprint by introducing new business models, such as rental power tools and digital services for customer support, channel partners and sales force.
Bosch says that it is becoming a Hardware Plus company. The company has realised that to become a major home appliance brand in India, it can't rely mainly on expensive built-in products. So, it will roll out more freestanding home appliances here. It has planned to invest €100 million in the next 4-5 years in its technology centre, refrigeration factory, and marketing and brand building.
Also, it will increase the number of outlets and have a reach of over 350-400 cities nationwide. It has implemented a three-brand strategy in the home appliances business here, with Bosch, Siemens and Gaggenau covering all segments from mass premium to luxury.