 Of late, BMW has been making lots of off-beat cars like the X6 and the soon to be launched BMW PAS. This though, is completely useful. The X5 has moved a class up with bigger size and 3rd row of seats and the X1 is almost as big as the X3 which means the forthcoming X3 will move up in size as well. So this car sports good on-road capability with some day to day off-roading capability as well. So here is some in0depth information on the forthcoming X1 which is slated for its India Launch somewhere in 2010 as the Indian market has opened up for sch vehicles.
Engine
The BMW X1 will be available with four and six cylinder engines both diesel and petrol, but expect to see the four cylinder turbo petrol in there too.
2.0-liter four-cylinder gasoline - 170bhp
2.0-liter four-cylinder diesel - 177bhp
3.0-liter six-cylinder gasoline engine - 265bhp
3.0-liter six-cylinder diesel - 245bhp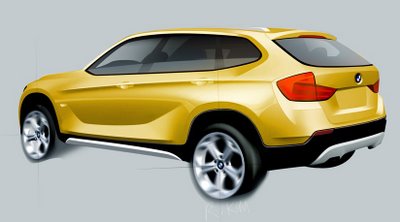 Drivetrain
The BMW X1 will be available in four wheel drive, but also as a rear wheel drive. With the initial launch in the European market only, the four-wheel drive will be the only option offered.
Market
The BMW X1 offers a new perspective as a compact premium Sport Activity Vehicle. Not only as the first of a kind in it's segment for the market but it will advertise itself as well as the entire 1er model line to the more youth orientated BMW fans. Research has shown that a greater percent of 1er buyers are (A) new to the BMW Brand (B) much younger customers than expected. The BMW X1 will fit into this product line as a more compact SAV aimed at a younger demographic . As mentioned before, there are no plans for the X1 to be released in the U.S, mostly due to the economic instability and BMW's goal to become more profitable. Can things change in the future? Sure, but this is pure speculation at this point. So when in India? 2010 is a possibility.
Price
Since the X3 will go up in size, same as the last X5 did(added a 3rd row), the BMW X1 will move up into the X3's slot, which implies that the pricing will be set accordingly. Of course, this is just a rumor and we won't find out for a while, but from a business perspective, it makes total sense.
The BMW X1 is expected to be available at the dealerships in mid 2009 with a price of around 40-45lakhs.
IAB
Source : BMW Blog