BMW launched the M6 Gran Coupe in India today. While the M6 clearly competes with the Audi RS 7, we had to include the Porsche Panamera Turbo S in this comparison as well, as Porsche say this variant of the Panamera is available to order in India.
Basically, all three cars are four-door coupes, though the design is executed differently: the Beemer is a natural extension of the 6 Series, the Audi gets a swooping roof with a lift-back design, while the Porsche's rear ends with a hatchback. All three cars measure 5 meters and a few millimeters, while their wheelbases are about 2.9 meters.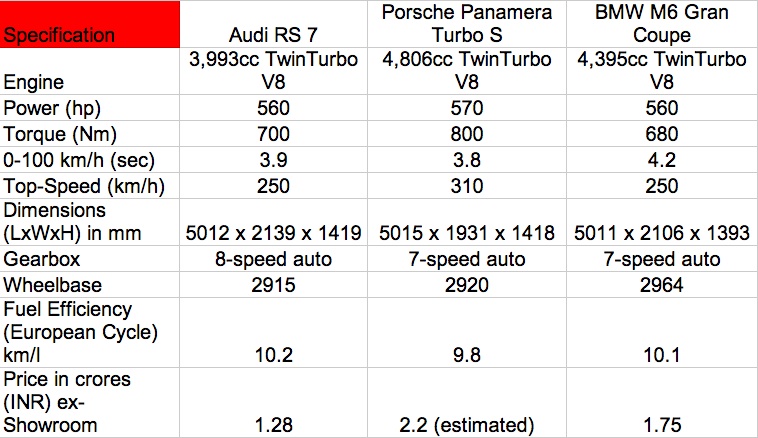 All three cars sport a twin-turbo V8 engine. The Audi is the lowest on displacement, but matches its competitors on power with 560 hp. The Porsche develops a tad more at 570 hp, but from a 4.8-liter engine, while the new entrant produces 560 hp from a 4.4-liter engine.
The BMW produces the lowest torque at 680 Nm, while the Porsche churns the maximum at 800 Nm. A consequence of this is that the Porsche accelerates from 0-100 km/h in 3.8 seconds, the Audi does it in 3.9 while the BMW needs 4.2 seconds. The Panamera and M6 come with a 7-speed automatic transmission, while the RS 7 sports an 8-speed unit.
Coming to the price, the RS 7 costs INR 1.28 crores, the Panamera is expected to cost about INR 2.2 crores (prices not announced), while the M6 is priced at INR 1.75 crores.