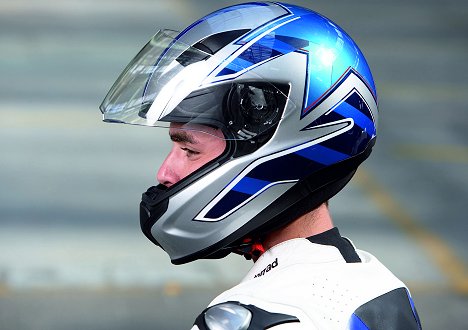 At a time when Car makers are cutting costs and development times in designing new cars and going virtual, BMW has done the unthinkable! They have spent some time in their Wind tunnel designing Crash Helmets!! Many would know that some minnows in the F1 grid lack such facilities and borrow others' wind tunnels for development work!!
The aerodynamic outer shell, EPS inner shell, aero-acoustic liner, visor quality, chin strap and fastening system-These are not the features of the upcoming BMW 7 series but in fact the features of this unique helmet!! WOW !! It even has vents that waft air towards various parts of the head to maintain good ventilation!I mean, Mercedes do a similar thing in their SLK convertible. BMW has gone a step ahead and done it in their helmets. How cool is that? The outer shell weighs just 1380grams which will not strain your neck but will make u call it Superleggera (Super light weight in Italian). It even sports a chin Spoiler!
To guarantee an optimum fit for every head shape, the lightweight shell is available in a choice of two sizes.
Internally, the Sport Helmet's liner is made from high-quality, moisture-wicking Hydroplus, which can be removed and washed. This high-tech material provides a high degree of comfort and aero-acoustic qualities that reduce noise levels to an absolute minimum. Safety is further enhanced by a chin spoiler, neck strap and an anti-scratch double-visor (optical class 2) designed to maximise peripheral vision. A practical ratchet lock enables the visor to be opened quickly and easily, even when wearing gloves.
"The Sport Helmet is one of the quietest full-face helmets on the market," says BMW. "This combined with the lightweight aerodynamic qualities of the helmet and the sports styling make it the perfect helmet for the ambitious sports rider."The Sport Helmet is available in sizes 52/53 to 62/63 and a choice of five colours: white metallic, granite grey matt metallic, night black, sparc, magma and speed.
So what you waiting for,get set to add that 'M' badge on to your helmet!!!
[ratings]
Source- Wheels