Tested successful by the ARAI.
Whenever there is a good number of holidays approaching, I would usually plan a trip to my hometown in Kerala in my trusty Maruti. A thorough check-up and service (if needed) will be done to ease my anxiety, before I set off on the arduous journey that takes more than half a day to complete in a car designed to be a city runabout.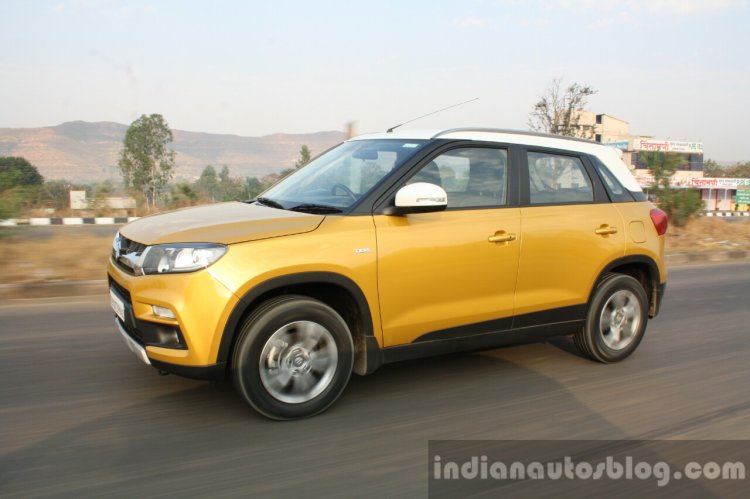 The multi-lane roads are smooth and straight for most part of the journey, so the last thing in your mind is a tyre puncture. However, almost every trip that I've made, there is always a small hatchback or a large lorry parked by the side, and a person grimacing at a flat tyre. In one instance, I stopped to help an old chap fit the car's spare tyre, and found out that a long nail had penetrated into the original tyre. These are situations that you never foresee in your trip, be it to another state or another building inside a city.
So when we heard about TYRE PROTECTOR, we initially assumed that it's just another brand of tyre sealant, which itself has a bad reputation in India for not living up to what dealers guarantee. However, Director of TYRE PROTECTOR India, T.S Ashwin, reassures that this is completely different from what other brands are marketing, and is looking to change the negative perception of tyre sealant in India with TYRE PROTECTOR.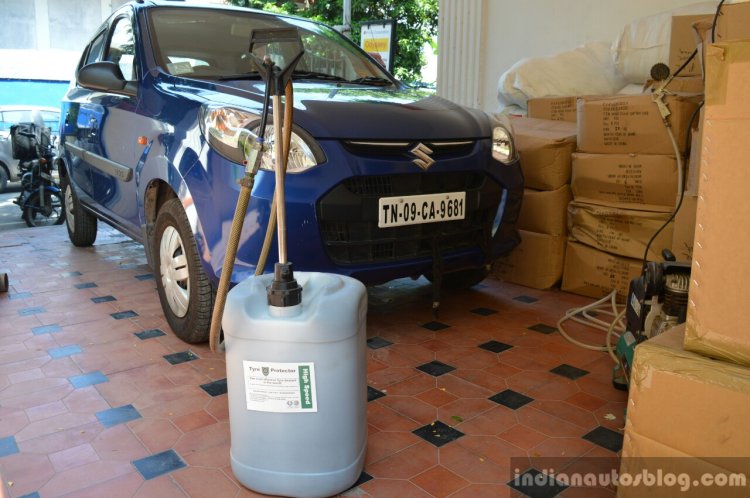 To see the installation process and experience the product, we brought one of our cars - a Maruti Alto 800 - to the company's HQ in Adyar, Chennai. One of the folks immediately brought out a can containing the gel, a hand pump to push the sealant into the tire, and a motorized air pump. That's all the equipment required to install the product.
The process starts by deflating the tyre and setting its valve position to 6 o'clock. The nozzle from the hand pump is connected to the tire valve, and TYRE PROTECTOR sealant is pushed inside. For each tire size, there is a specified quantity of tyre sealant to be used. In this instance (145/80 R12 tyres), 300 ml of tyre sealant is the stated amount per tyre.
They're inflated to manufacturer-recommended tire pressures, and then taken for a slow test-drive for the sealant to uniformly coat the inner portion of the tread.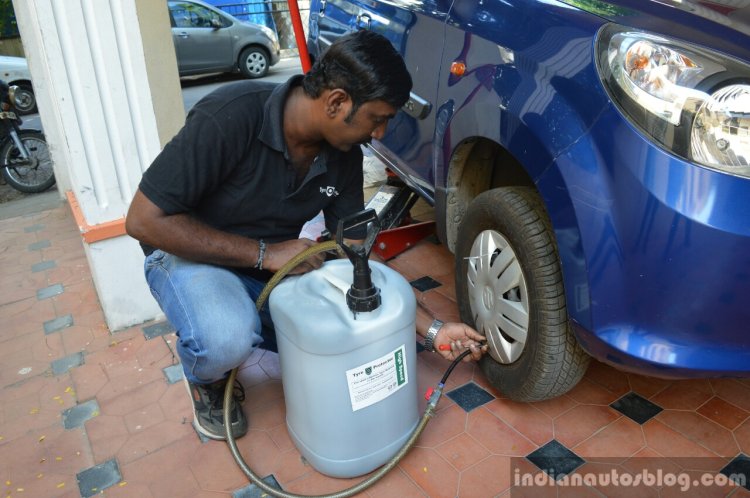 And that's it. TYRE PROTECTOR will seal all punctures up to 6 mm in car tyres, 3 mm in bike tyres and 12 mm in commercial tyres throughout their life. Driving back home, the car's ride quality didn't feel any different from the time before it was installed.
Prices for installing TYRE PROTECTOR vary with each car, which can be viewed on their website. It's not available for cars/bikes/trucks with tube tires. Otherwise, if it means reducing safety risks associated with tyre punctures as well removing the headache of being stranded on an unknown location and painfully changing the tyre, then we believe that it's worth installing.
[Youtube link]
TYRE PROTECTOR is like an insurance policy; you may think that you're saving money by not buying one, but when something unfortunate happens, the realization arises too late.