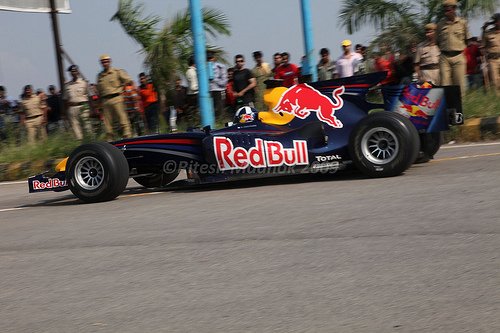 The Red Bull F1 car covered the Bandra-Worli stretch in under 3mins
David Coulthard must have never imagined performing in front of such a huge crowd gathered at the Bandra-Worli sea link where he showed off his driving skills and the performance of a F1 car in the Red Bull Speed Link event yesterday.
The crowd began to flow in right from 11.30am for the scheduled 2pm drive. The centre of attraction was always the F1 car, which was prepared to race on the public road by the hard working RedBull F1 team.
At 2pm, DC arrived in racing overalls and sent the crowd into a frenzy. Everything was set and DC started the car to big cheers from the Mumbai crowd. Capable of head-spinning speeds, the Red Bull F1 car covered the Bandra-Worli stretch in less than 3mins!
Following the speed run, it was time to show the crowds some moves, and DC began doing donuts in front of the VIP stands. But the action came to an abrupt end as the 2nd round/lap had to be called off due to an overheated engine.
But the excitement had not died down as Mumbai had never seen such a show before. DC then obliged for a few snaps with the Police Chief before being driven in the Red Bull promotion car for a short lap waving to the crowds.
A short interaction was then followed with the media where DC spoke about his driving days to his current role as the consultant with Red Bull F1 team. He disclosed to the crowd that he had in fact touched 260kmph on the Sea link.
DC also pointed out that the Indian Sports Minister didn't exactly know what F1 Racing was as Mr Gill had earlier remarked that he did not consider F1 Racing to be a sport.
DC ended the question and answer session to a little girl's question on the maximum speed he reached today -- DC replied "I went at 260kmph. But don't you ever do that. I have been practicing this for a lot of years".
Now that India has a proper F1 team ready, imagine an Indian GP on the roads of Delhi. How enormously satisfying would that be for the Indian F1 fan?
Bandra-Worli Red Bull Speed Link Image Slideshow
If you can't see the slideshow above, visit the Bandra-Worli Red Bull Speed Link Image Gallery directly