The new Bajaj Discover 150 is the most powerful and affordable model in the segment.
The new Bajaj Discover 150 S and Discover 150 F have been launched today and here is how they fare against rivals Honda CB Unicorn and Yamaha SZ Series (S and RR) in terms of specifications.
The Bajaj Discover 150 twins (which only differ cosmetically) have the smallest engine in their segment at 144.8 cc. The CB Unicorn is powered by a 149.1 cc motor while the SZ adopts a 153 cc unit. All motorcycles employ 5-speed constant mesh transmissions. The CB Unicorn and SZ use a 1-down 4-up shift pattern while the Discovers use an all-up pattern.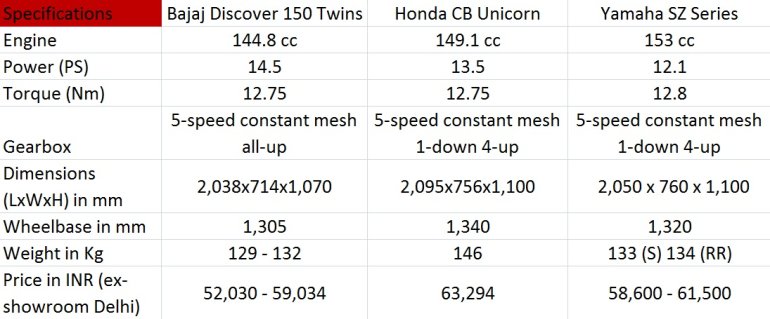 Despite having the smallest engine displacement, the new Discover 150 pumps out the highest power in its segment at 14.5 PS (14.29 bhp). The SZ which is powered by a detuned version of the FZ's engine delivers the least power at 12.1 PS (11.92 bhp) and the CB Unicorn finds itself middling with 13.5 PS (13.3 bhp) on tap.
In terms of torque output, all three motorcycles are at par. The Discover 150 and CB Unicorn deliver 12.75 Nm while the SZ produces a nominally higher 12.8 Nm.
Save for the entry level Discover 150 S which gets front drum brakes, all the motorcycles get standard front disc and rear drum brakes.
Coming to the dimensions, at 2,095 mm, the CB Unicorn emerges as the longest among the lot and the Discover 150 is the shortest at 2,038 mm. The CB Unicorn which weighs 146 kg is the heaviest among the vehicles in this comparo while the new Discover 150 whose weight ranges from 129 - 132 kg (depending on the variant) is the lightest.
In price, the Bajaj Discover 150 twins which has a starting price of INR 52,030 is the most affordable while the Honda CB Unicorn with a price tag of INR 63,294 is the most expensive (all prices ex-showroom Delhi).