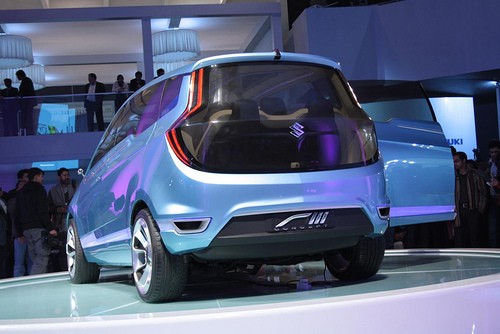 The R3 concept was created by Indian engineers and its future depends on feedback
Created by Indian engineers in nine months, the R3 concept was displayed at the Delhi Auto Expo today. The company has no rigid plans of manufacturing a MPV, which was clear when they declared the future of the model was based on feedback they receive.
You can get the full details of the model by referring to the press release attached after the jump. Here is an extract of what was discussed by the Suzuki's Indian wing during the unveil.
* Suzuki hopes to sell 1 million vehicle in the future
* Main focus will be on the small car portfolio
* In future they will try to explore new segments other than small cars
* Creation of R&D in India for their contributions in future products is their goal
* Company is working closely with the Indian Govt on the alternate fuel technologies
* Suzuki will try to make future fuel technologies more affordable and usable with masses
* Latest CNG technology will be in India within few months, will be all together advanced & different from what country has as of today. New CNG tech will see improvement in efficiency and power delivery
* Maruti is and will promote safe driving
* R3's production will depend on the market feedback
* Kizashi will be in India by the end of the year
* Current capacity, Gurgaon - 6 Lac - Manesar - 3 Lac per annum
* Manesar capacity will be increased, as per future demands
* To check the production costs and make products VFM - efficiency & productivity will be increased, sharing of components between models will be done
* To sustain 50% growth - New markets & new segments will be explored
* No plans as of now for the Hybrids in India
Suzuki R3 MPV Press Release
Suzuki R3 MPV Image Slideshow
can't see slideshow above? Visit the Suzuki R3 MPV Concept Image Gallery directly to view the images