Price ranges between INR 64.9 - 77.5 Lakhs (ex-showroom Delhi).
The second generation 2016 Audi Q7 was launched in India yesterday. Priced from INR 72 Lakhs (ex-showroom Delhi), the new Q7 will be imported to the country via the CBU route, and available in 2 variants: Premium Plus and Technology.
Below is a technical comparison between its key rivals: 2015 BMW X5, 2015 Volvo XC90 and 2015 Mercedes GL.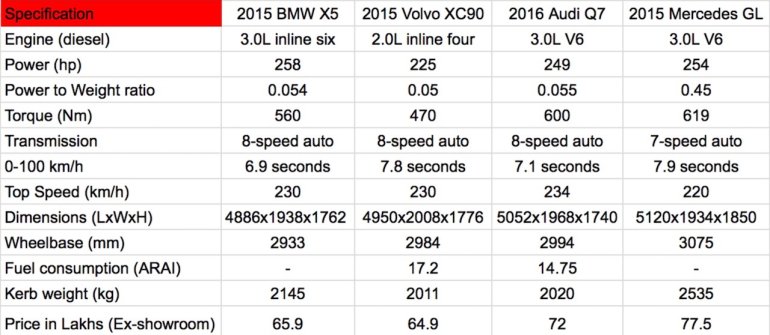 The new Audi Q7 packs a revised 3.0-liter V6 TDI engine, which outputs 249 hp and 600 Nm of torque. While it may not be as powerful as the BMW X5 or Mercedes GL, the Audi trumps both models with its kerb weight of just 2020 kg, which improves its performance and fuel efficiency figures. It is only 9 kg heavier than the lightest SUV in the segment, the 2015 Volvo XC90.
The BMW X5 remains the fastest accelerating SUV from 0-100 km/h, while the Audi Q7 comes in at a close second position. Despite being one of the most powerful options, the Mercedes GL takes 7.9 seconds to reach 100 km/h, which is a mere 0.1 second slower than the lighter, less-powerful Volvo XC90.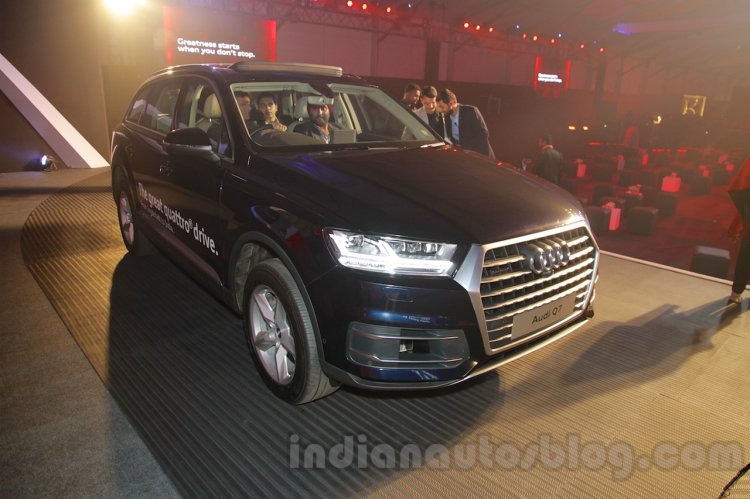 The Volvo XC90 Momentum Luxury is the least expensive option in the segment, despite being a CBU model. The X5 xDrive30d Expedition and Audi Q7 45 TDI Premium Plus are priced at INR 65.9 and INR 72 Lakh respectively, while the Mercedes GL 350 CDI, the oldest model in its class, is the costliest option at INR 77.5 lakhs.