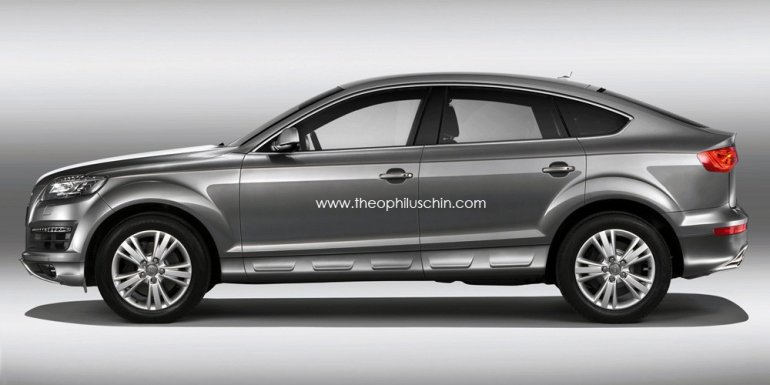 When BMW showcased the X6 to the world, the first ever coupe crossover, it was criticized for being absolutely pointless.
It was too low slung for any extreme off roading and too upright for any sporty driving. The critics had written off its chances.
However, the criticism did not stop BMW from achieving sales success with the BMW X6. In fact, it was so popular that rivals Audi and Mercedes went back to the drawing board to create their own contenders for this segment.
Chief of VW Group design, Walter de Silva, confirmed the fact that Audi will develop its own coupe crossover to slot in between the Q7 and Q5. Our friend from Malaysia, Theophilus Chin, presents his vision of the Audi Q6 in the form of a rendering.
What do we know about the Audi Q6?
The Audi Q6 will have a sleek style and coupe-like appearance similar to the BMW X6. It will feature a sleek silhouette with a roofline that will resemble the A5 and A7 Sportback models. However, it will be less radical than the BMW X6 to maintain good outside visibility.
It will be based on an extended version of the Q5 platform (the MLP or Modular Longitudinal Platform).
The longer wheelbase will give a better ride because the added length is created from the wheelbase.
It will come in both two-door and four-door guise.
Audi plans to lighten the whole structure by using a judicious mix of materials including aluminum for the roof and hood. It will be under 2 tons, considerably lighter than elder brother Q7, to make sure that the performance and handling is enhanced.
Power should come from a range of four-cylinder and V6 turbocharged engines in both diesel and gasoline forms. It will also get the RS variant and may make use of Audi's 4.0-liter turbocharged V8.
It will also feature a hybrid powertrain from the Touareg which allows for about three kilometers of purely electric driving with at about 50 km/hr.
[Source:  Theophiluschin.com]