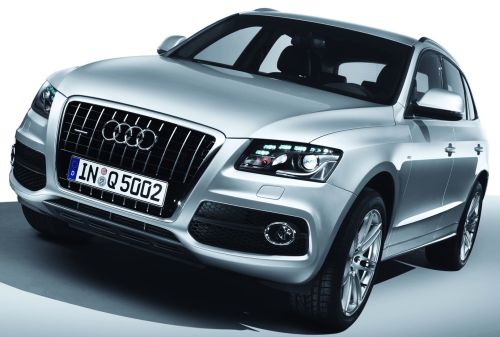 With an intention of strengthening its presence in the Luxury SUV segment in India, German Auto giant Audi plans to introduce its newly launched model Q5 January next year, along with an advanced version of its existing Q7 in the country.
The Q5 is a comfortable 5-seater with an enormous boot. Unlike the Audi Q7 that shares its architecture with the VW Touareg, the Q5 is nothing like it, because its underpinnings are based on the A4 sedan. The Q5 looks exactly like the Q7 but 75% in size. The imposing grille section that is now typical of Audi design sports vertical bars that makes it look audacious yet classy. The sharp Xenon headlamps with LED running lights, add even more aggression to its appearance. There are creases and curves all over the body, just to differentiate it from the Q7!. The interior exude richness and Audi quality cannot be mistaken. Likely Engine options include a 2.0-litre turbocharged petrol and a 3.0-litre turbodiesel, with a seven-speed automatic gearbox that allows clutchless manual shifting.
It will be priced at around Rs.45 Lakh (as a CBU import), and pitted against the BMW X3, Mercedes-Benz M-class,Volvo XC90, Mitsubushi Montero, and the Toyota Land Criuser Prado. Expect the 5 to be as bang up to date a vehicle as it can be, as Audi is trying its all to make its SUV's presence felt in the Indian Market.
Source- German Car Blog