The Germans are heating up the scene in the luxury car market. As the BMW India gets ready to launch the X3 tomorrow, ripples have already started spreading throughout the automotive scene.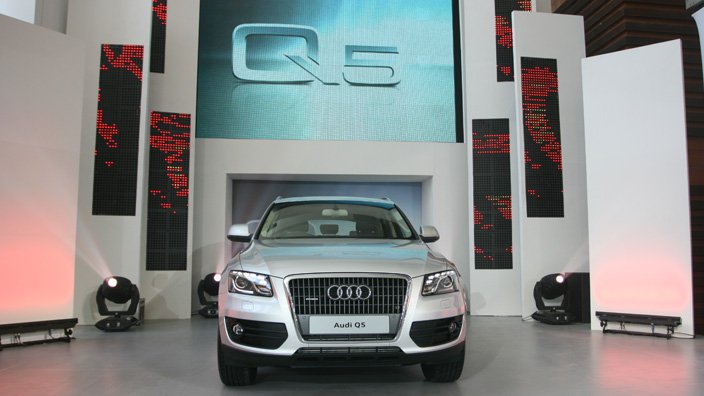 Audi India has introduced a corporate edition of their Q5 (which will go head-to-head with the X3) to lower the entry point in the mid-size SUV market.
The Q5 was earlier available in 2 variants
• TFSI Quattro with a price tag of 44 lakh
• 3.0 TDI Quattro with a price tag of over 50 lakh
This Business Edition will start at an astonishing price of just Rs.3,513,000 (ex-showroom Maharashtra). For that price you get 17-inch alloy wheels, xenon-plus headlights including LED daytime running lights, leather and leatherette interiors with wood inlays and a multifunctional 4-spoke leather steering wheel.
It will have a 2.0 TDI Quattro with 170 PS mated to a 7-speed automatic transmission. The expected fuel economy is 12.80 km per litre.
This corporate edition model will lower the entry point thus widening the target audience. The Q5 will still be a CKD and there are no plans to manufacture it in India.
Tomorrow, BMW will launch the new X3 in Pune. Previously, the Q5 was the king of the segment because the old X3 was a bit of a minger and the LandRover Freelander was expensive.
But now the X3 is bound to heat up the segment and the Freelander 2 also comes at an attractive price. Hence, Audi decided to make the Q5 cheaper so that it can retain its top position.
Interesting to note that BMW India has no plans to launch the corporate edition of the X3 in the near future and the company has opted only to launch the diesel models of the X3. Will the X3 dethrone the Q5 to become the new king of the segment?
[Source - EconomicTimes.IndiaTimes.com via Facebook.com]