The Audi e-Tron has been put on display at the ongoing Bangkok Motor Show 2019. The all-electric SUV is being imported into Thailand via Meister Technik, the authorised distributor of Audi models in the country. It's on sale for 5.099 million baht (INR 11,066,247). The Audi e-Tron 55 Quattro is powered by two electric motors, which, as per the company, are 'virtually silent'. Together, the two electric engines are capable of producing a maximum power of 408 hp. The new model has a driving range of 400 km* and can accelerate from 0 to 100 kph in 5.7 seconds.
A Quattro electric all-wheel-drive system sends power to all wheels. The battery pack of the Audi e-Tron has a low and central position. Moreover, during 90% of deceleration, the car is capable of recovering energy via electric motors in combination with an integrated electrohydraulic brake control system.
A highlight of the Audi e-Tron is the set of optional virtual exterior mirrors reduce. These carry a camera that can relay the images on a panel on each door pad. Moreover, these virtual mirrors minimise aerodynamic drag. Other features that the all-electric SUV comes with include an MMI media centre with navigation plus LTE and Wi-Fi hotspot, an efficiency assist mode that helps the driver adopt an economical driving style, and an adaptive cruise control system.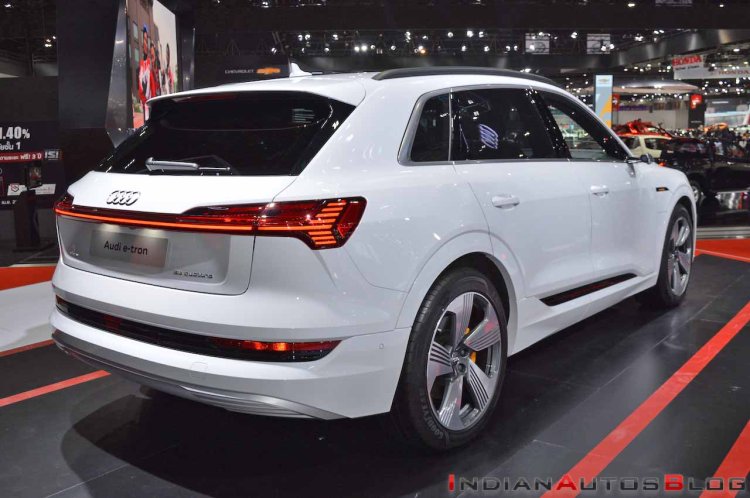 Also Read - Audi Q2L e-Tron leaked ahead of debut next month
Hot on the heels of the Audi e-Tron 55 Quattro, Jaguar is slated to launch the i-Pace electric SUV in the Thai car market. Even Mercedes Benz intends to launch the EQC SUV in Thailand later this year. The all-electric Audi SUV is produced at the company's CO2 neutral plant in Brussels.
The Indian launch of the e-Tron is scheduled to take place later this year.
*Under WLTP cycle