Words - Karan Mathur
Introduction
In a world of ever-evolving car design, it's hard to stand out. The whole reason for the existence of four-door coupes or notchbacks or sportbacks, whatever you'd like to call them, is the fact that we want to have it all. A sports car? Yes, sir! A practical family sedan? Most definitely. A four-seater GT? Of course! While most of them are fairly sporty and spoilt rotten by well-loaded interior setups, designing them can be a fairly tricky thing to do. A wrong design line in any direction can be the difference between bulbous and beautiful. Well, the car we've been driving around definitely falls in the latter category. Ladies and gentlemen, say hello to the second-generation Audi A5 Sportback.
Design
Exterior
While the overall silhouette of the A5 Sportback does remind you of the A7 Sportback and the A4 in parts, with this baby Audi four-door coupe, the designers seem to have polished the design even further. From head-to-toe, its sharp lines and edgy creases complement each other, topped off by just the right proportions that are needed to blur the line between a two-door and a four-door coupe.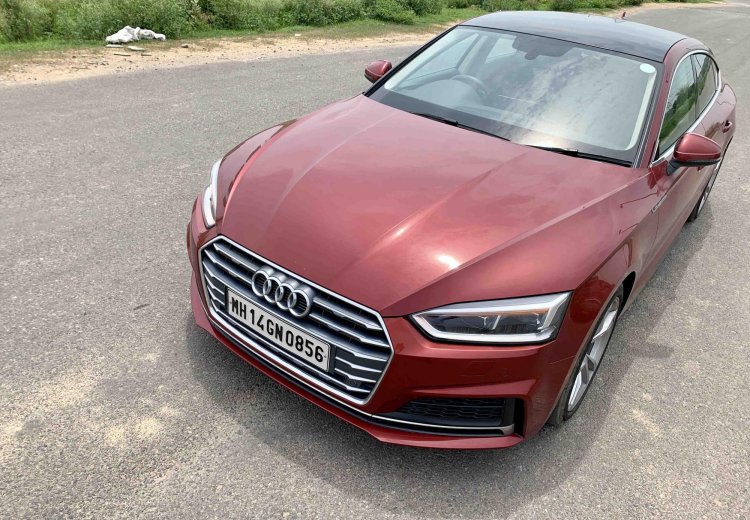 The front fascia is dominated by Audi's latest family grille design and the intensity of its aggression is taken a bit further with the help of a muscular front bumper. Look further up and you'll see that it gets a long and heavily sculpted bonnet, the lines of which seem to effortlessly flow towards the back and only taper off at the stout boot lid. The roofline is unmistakably sporty as well. If you happen to look at how the car's design flows from front-to-back standing at the rear-quarter angle, you will be absolutely stunned at the perfect combination of gracefulness and sportiness in the same car. Does it look better than the BMW 3 Series Gran Turismo? You bet!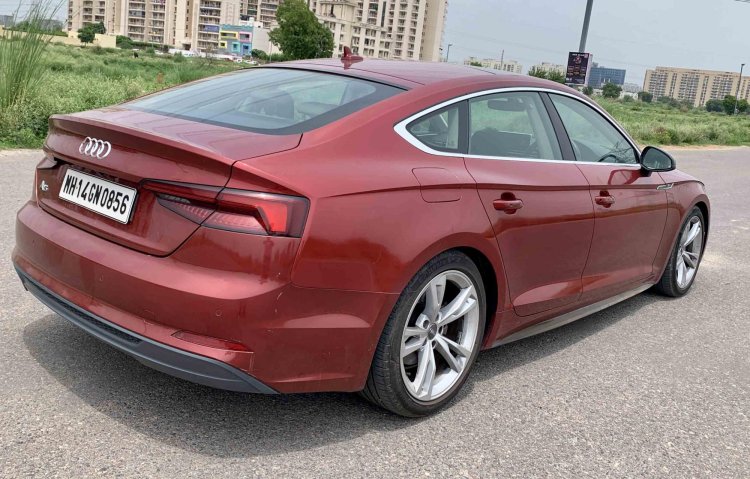 Another aspect that plays a big part in how the design contours of the car look so complete is the large 245/40 R18 tyre and wheel combination. Overall, the Audi A5 Sportback is the kind of car that gets heads turning the second it hits the road and at the end of your journey, makes one hell of a statement every time you pull up to your destination. When it comes to absolute style, the design of the car has a sense of occasion and in our books, is the top dog in its segment.
Interior
A big part of having a four-door GT is a comfortable and well-appointed interior. After all, a car's cabin is where you and yours are most likely to be spending a lot of their time. The Audi A5 Sportback, I'm happy to report, gets high marks in this regard as well. The interiors feature a plethora of all the modern gadgetry and high quality of materials that you can expect from a car of this stature. The features on offer include an MMI unit with a touch interface, three-zone climate control, Audi Smartphone Interface, a crisp-sounding 750-watt 19-speaker Bang & Olufsen surround-sound system and the Audi Virtual Cockpit system consisting of an 8.3-inch infotainment display unit in conjunction with an all-digital instrument cluster.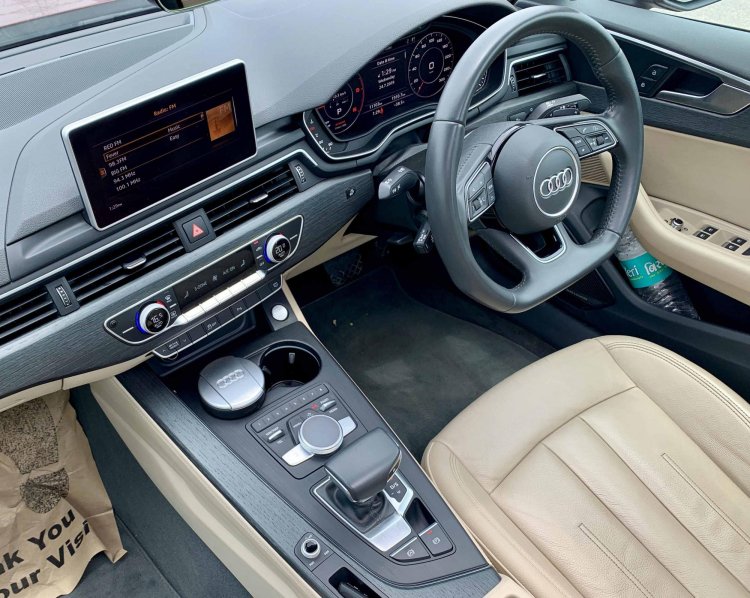 The cabin looks extremely well laid-out and gets eye-catching touches like classically styled connected AC vents and black-wood inserts contrasting well with the multitude of digital screens that surround you. When it comes to space, the Audi A5 does loft its front-seated passengers with plenty of room and comfort. For the passengers at the back, though, the A5 loses out some serious points even compared to the A4 that it's based on. While it does get three headrests, thanks to the protruding wheel well and rear HVAC controls, the middle seat is only good for kids or paraplegic adults. While I may be nitpicking, another issue that plagued my thoughts the entire drive was the fact that Apple CarPlay and Android Auto are only available as an option on a car that cost over INR 60 lakh in standard trim. The simply superb Bang & Olufsen sound system I get, but smartphone connectivity as an option in 2019? Come on, Audi!
Engine & Transmission
So, now that you know how the car looks like and what it feels like, let's talk about how it goes. The Audi A5 Sportback is available in India with only the 2.0-litre TDI in-line four-cylinder diesel mill that develops 190 PS at and a hearty 400 Nm. A 7-speed DCT sends drive to the front wheels. On the go, the A5 Sportback is a sprightly performer in city traffic with peak torque delivery starting from just 1,750 rpm and a linear output up to 3,000 rpm. The peak power output, on the other hand, is concentrated higher up in the rev range at 3,800 rpm and comes out in short bursts with a powerband that tapers off at 4,200 rpm. So, while it does have enough grunt to get off the line quickly, being in the right gear at the right time is crucial to get the best of this motor.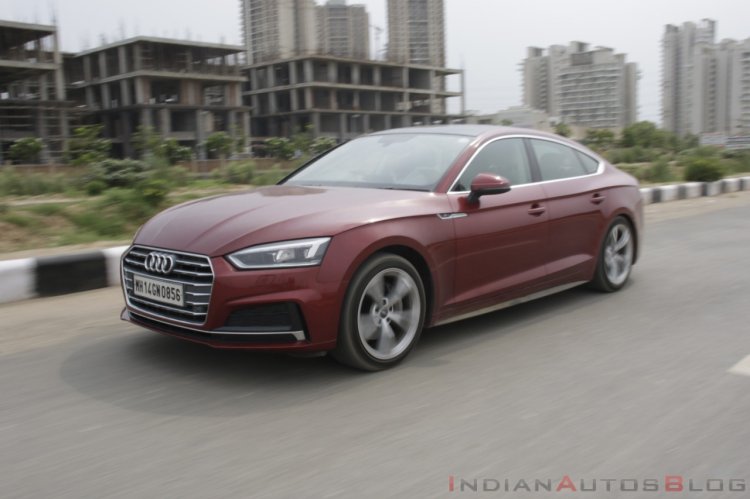 The ride-by-wire system allows the owner to be in control with four modes to choose from for power delivery - Comfort, Dynamic, Eco and Individual. We found that Comfort is really the sweet spot for this vehicle when it comes to power delivery and efficiency. Dynamic, on the other hand, is perfect for empty stretches of road or if you're looking to get somewhere in a hurry. In traffic and slow-moving conditions, the Dynamic driving mode just makes the car twitchy at the slightest dab of the throttle. Which, if you're looking to extract the sport from this Sportback, provides instant power delivery and optimises fueling for the best possible throttle transitions. Helping to put all the power to the ground through the front wheels is a 7-speed wet dual-clutch gearbox with a dual-mass flywheel setup. This helps ensure seamless and quick upshift or downshift of gears, with a decent 0-100 km/h acceleration time of 7.9 seconds. In the Comfort mode, gear changes are aimed towards smoother power delivery, shifting to Sport mode helps with quicker downshifts and delayed upshifts.
Ride & Handling
On the handling front, the new Audi A5 does show a bit of contrast to what the aggressive aesthetics might suggest. It gets independent-wheel suspension with a five-link axle at the front and back, topped off with anti-roll bars in both directions to keep the body roll in check. The result of all this in real-world conditions is a ride that is quite pliant through our pot-hole ridden streets in most occasions. The ride does get bumpy when travelling faster-than-usual over undulated paved roads. When it comes to handling, despite being a front-wheel drive, the A5 handles itself well for the most part.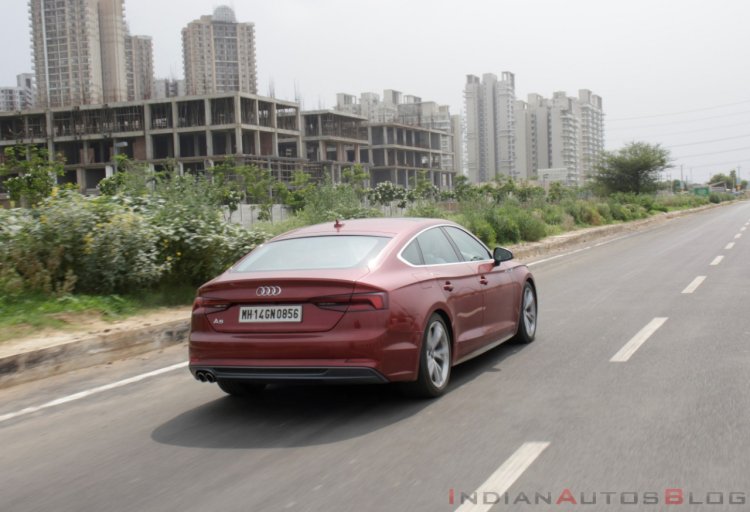 It gets off the line fairly quickly with the right inputs and with a wheelbase of 2,824mm is adequately precise enough to make moderately fast directional turn-ins a fun affair. However, get overly ambitious with your throttle or steering inputs, you might be 'sliding' into a bit of a disappointment there. With the front wheels being put in charge of delivering 400 Nm of torque and change directions at the same time, torque steer during heavy acceleration and understeer through high-paced corners will eventually rear their ugly heads. However, while I could still live with the the gremlins, what lets the car down even further is that electronically controlled speed-dependent steering system. The car does feel direct when you point the wheel in a particular direction but there is always a sense of disconnection from the road. While the settings in Comfort are still satisfactory, switch the steering into Dynamic and all you get in return is heavier steering feel with none of the tautness.
Verdict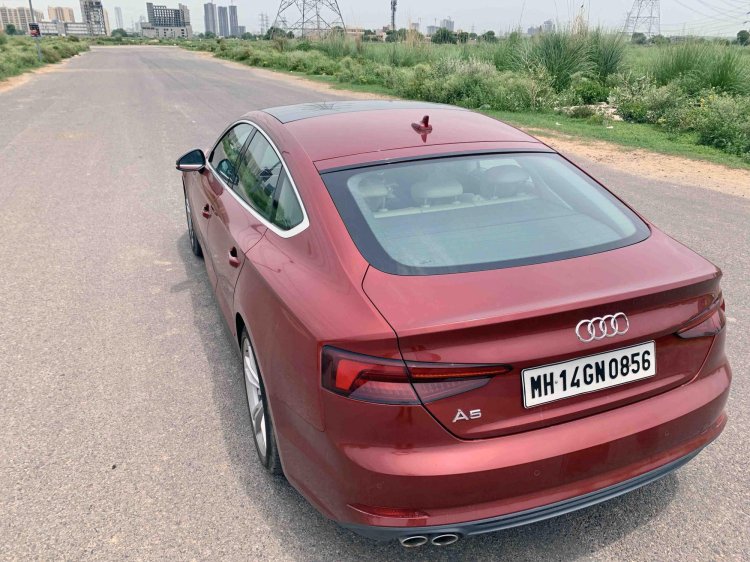 If there was ever a checklist for all the requirements of what makes a great four-door coupe, the Audi A5 would be checking off quite a few things on it. It looks like an absolute beaut, has the power to keep you satisfied on most roads, has seating for four, business-class opulence and, more than anything else, guarantees all the attention that you'd ever want from onlookers without actually triggering the drama that comes from, say, a Lamborghini Huracan. However, while all this does excite you in the beginning, the veil slowly starts to lift once you factor in some other aspects. So, let me give you my conclusion using two simple questions that you can ask yourself if you ever consider buying one. Would I buy the A5 Sportback as an occasional runabout if I also had a proper sedan and a proper sports car in my garage? Yes, I would. Would I buy one as my only vehicle of choice? Probably, not.